Ramsgrange students enjoy graduation party with ice cream and coffees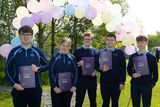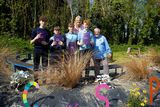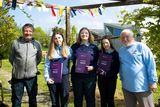 David Looby
New Ross Standard
Recently, the annual JCSP graduation took place in Ramsgrange Community School for all 3rd Year students.
The JCSP programme runs in conjunction with the Junior Cycle and through this programme, students experience other areas of learning. It follows the curriculum framework set out for the Junior Cycle, which is re-focused to cater for JCSP students. It helps to make the curriculum accessible and relevant to young people who would benefit from a different approach to the Junior Cycle.
The programme is designed to ensure that students can benefit from their time in school and enjoy the experience of improvement and success. It does this by providing a curriculum framework which will assist schools and individual teachers in adopting a student-centred approach to teaching and learning and in providing students with a programme to meet their individual needs.
The graduation was an opportunity to acknowledge and celebrate the achievements of all of the students and their continuous hard work over the past three years. During the ceremony, the students were presented with their JCSP portfolios by the school's JCSP co-ordinator Ms. Brighid Hearne and principal, Rachel O'Connor, along with the 3rd Year heads Leanne Moore and Meadhbh O'Dwyer ,which illustrated all of their achievements through partaking in the programme.
The 3rd Year heads also said some very kind words in recognition of the fantastic and commendable journey and achievements of the students in all aspects of school life over the past three years. Afterwards, the students were treated to a visit from an ice cream van and coffee van and with a celebratory party being held in the school's restorative garden as a special reward for their efforts and hard work.