New Ross Women's Shed group gets up and running with meeting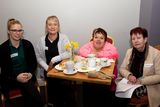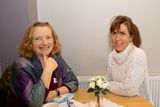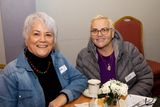 David Looby
New Ross Standard
THE recently formed New Ross Women's Shed group held an afternoon tea recently at Spider O'Brien's pub, for International Women's Day.
The ethos of the group is Mná supporting Mná – to see what women can do and achieve collectively in friendship for themselves and communities within the locality of New Ross town.
Five steering meetings have been held since January to assess interest and discuss formal formation as a special fund of €100,000 was announced by Minister Heather Humphreys to help women's sheds nationwide to form. "We have decided one avenue to progress to as the waiting list is long is seeking to obtain an allotment to use Saturdays to gather as a group or to use by our members at any stage during the week," said Sinead Cashin of the group.
Funding in the region of €2,000 is being provided to assist New Ross Women's Shed cover pre development stage costs and to get established to projects this year from March. "We need assistance with running costs such as insurance/ premises rental meeting costs and the purchase of equipment namely a Craft Crate and Biodiversity Box."
​See the group's Facebook page for more information.
​