New Ross founder William Marshal celebrated at weekend of pageantry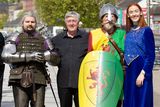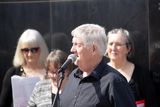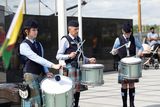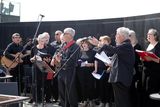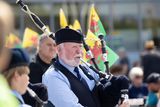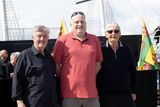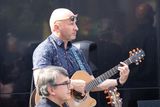 David Looby
New Ross Standard
THE second annual William Marshal weekend brought a sense of pageantry to New Ross over the weekend with knights, princesses roaming around and music.
History came alive at locations across south west Wexford, celebrating the legacy of Marshal, known as The Greatest Knight who ever lived, who founded New Ross and was a major figure in medieval Irish history, alongside his wife Isabel de Clare.
The New Ross History group held the second annual Isabel & William Marshal weekend for the 804th anniversary of the death of William Marshal.
The glorious weather on Saturday saw a crowd turn up for the official opening of the two-day event on the Norman High Hill Garden which was officially opened by Cllr Michael Sheehan who praised the organising committee who have plans to expand and enhance the weekend into a festival in the future.
It was a colourful occasion with William Marshal, Isabel and daughter Joan, a medieval knight along with some members from the Enniscorthy Historical Re-enactment Society and some archers in attendance.
The group then had a tour of St Mary's Graveyard with Myles Courtney followed by various speakers inside the church with the main speaker Grand Master Guy who spoke about William Marshal and the link between martial arts and William Marshal.
The afternoon concluded with a concert at the Emigrant Flame where the New Ross and District Pipe Band played some tunes followed with singers Keith Flanagan, Des O' Callaghan, Hayley Crosbie, Seamus Kiely and Cairdeas Cheoil (a choir comprised of members of the New Ross Active Retirement Choir and the Rosbercon Parish Church Folk Choir).
On Sunday the group headed to the old Augustinian Church at Grantstown where the Bannow Historical Society showed the group a map that had been made to depict how Bannow would have looked 854 years ago and Ann Farrell explained some of the history of the area and the group went onto St Mary's Church in Bannow, where the Normans landed in early May 1169 to hear more history of the area from Ann.
Baginbun was next on the agenda, here Seamus Kiely explained the importance of Baginbun in Irish history and the last place of interest to visit was the Hook Lighthouse for a fabulous tour.