New Ross food truck owner is on the pig's back selling mouthwatering bacon burgers and fries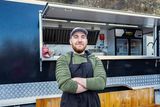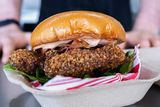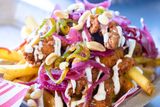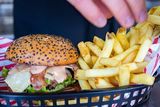 David Looby
New Ross Standard
THE street food phenomenon is growing at a huge rate and for New Ross man Aaron Doyle the proof is in the numbers.
Having opened 10 Nine at the Hillside Bar just off the Campile Road near New Ross in July, Aaron found he was selling out of food quickly.
The self trained chef said he plans to open seven days a week from April at the location which will see a coffee dock and cake offering opened by the Hillside owners.
"I have always been a foodie. Straight after school I went working in kitchens as a dishwasher and I worked my way up the ladder at Roche's in Duncannon and then at Creacon Wellness."
He said the food was always very focussed on working with local suppliers.
"That's something that's very important to me. I always try to work with as local suppliers as I can to reduce the food miles and support local because I think we have some of the finest produce on our doorstep." Aaron worked in the Brandon House Hotel immediately prior to opening his own business, getting the name from a dream he had.
Having researched the food van option for some time, he was delighted to find the right location at the right time.
"It is a lot more affordable to do something where you're not a brick and mortar and you have the option of picking up and going. It's more difficult in terms of getting licences and permits in the first place." It took around a year for him to be able to open.
Aaron got a trailer in Galway but has since bought a custom made trailer as business is booming.
"The old trailer did the job. There were a lot of hidden costs with things you wouldn't necessarily have thought of, from wiring in the electrics and because it's not a brick and mortar and you are out there exposed to the elements, more things go wrong.
"We had problems with electricity and with the ground trying to get it levelled. We had to get a digger and she started to sink so we had to go back at it again."
With about 20pc of custom from the pub and 80pc from locals from town and passing trade, as well as regulars, the business has been a big hit.
"We get a lot of country folk from Campile, south Kilkenny and with the bypass we are getting signs for out there to attract people in." Aaron was expecting to do 30 or 40 orders a weekend night, but lately it's been 150 covers even on a midweek night.
Taking on two more full-time staff, he said: "It really is growing huge."
He caters for pubs parties, for everything from communions and confirmations to anniversaries and going away parties, with a finger food menu.
Repeat business has been central to his success.
"I was a bit cautious thinking it would only be summer or passing by trade but we have people who would come to us three nights a week since we opened and they have been with us since we started in the summer."
Priding himself on his elevated pub grub, he said: "It's gastro style. We use higher quality ingredients. I find that there are not a whole lot of places that offer what we offer and it's done on a more casual level. You don't have to get dressed up.
"You can get a really good quality burger and you can wear a tracksuit while you're eating it." He makes his own Korean Gochujang sauce made from a fermented yellow bean paste cooked down with brown sugar.
"Everything is made on site, from the burger sauces to the pickles we put on the burger we actually make out on the van."
Aaron travelled to Copenhagen before Christmas to research new food trends and says it is important to keep up to date with the newest dishes so he can be first on the mark with his food offerings locally.
With New Ross Municipal District planning to open a food hub at The Shambles later this year, Aaron said: "I think it's an unbelievably good time to be in the food industry. There is so much buzz around food and casual dining experience.
"I find that a little but of the hype has moved from the fine dining down to the casual dining, especially when you can get such a great quality product from a little food van or a stall or any small space." Aaron said for casual trading in New Ross to thrive licences need to be eased up.
"It needs to be made more accessible to set up a food stall in a designated area in the town; I think it has endless potential." He said he would consider expanding his business into the town.
"With Ross at the minute there isn't a designated place you can gradually trade from. The greenway is coming. You'll have every walk of life going to be on that greenway, from your health fanatics to someone out for a stroll; these are all people that need to eat food.
"I think it's a really exciting time to be in New Ross because there is so much potential for a lot of different avenues and anyone who is into their food, if you have an idea develop it, because it's only going to lead to somewhere good."
Aaron said he doesn't see the food truck business as a job. "For any foodie it's something you just naturally want to chase.
"With the greenway coming in the shift to a more casual dining experience will be a really exciting time for New Ross and what we're going to see in the future."
Aaron said when it comes to pricing the option was always there to reduce the quality to reduce the price.
"But that never entered my head for one second. I went into this to source the best quality food that I can and the success of the business has been a by-product of the quality of the food."
He is developing an online ordering system to facilitate customers which he plans to roll out over the coming months.
The new truck was custom built to accommodate the higher turn over.
"We were selling out every night in the old set up. I needed the space, more fryers, fridges, freezers and because everything is done fresh out on the truck, refrigeration is huge.
"The more workroom is great too so it can fit two or three of us in there." Aaron plans to expand the business from Thursday to Sundays, to seven days a week.
"I was by myself but coming into the summer I'm looking at opening up seven days a week and continuing that into next winter. That'll be from April."​​​​​​