New Ross emigration story comes full circle for Wicklow family
Civic reception held for 50 members of O'Toole family from around world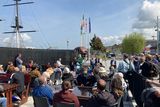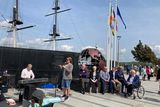 David Looby
New Ross Standard
FIFTY members of an international family with roots in south Wicklow, the O'Toole's, arrived in New Ross on Thursday, 175 years to the day from when their ancestor left the Wexford port town to travel to Canada.
On May 17, 1848, the family of Patrick and Margaret O'Toole sailed for Quebec on board the Jessie. Starting out in the province of Ontario the family spread throughout Canada and the United States. Wherever they went they made an enormous contribution to their community and their adopted land.
The O'Toole clan, hailing from several different countries but mainly Canada and America, returned to Tinahely to see their ancestral homeland last week, from where Patrick and Margaret O'Toole – joined by many others – walked and took pony and trap on a 12-hour journey to New Ross.
"We had a fabulous reception. We could not have gotten better weather," said Eleanor Lee of the Coolattin Canadian Connection website, which she runs with her husband Kevin - a historian and published author who has been liaising with the O'Toole family for years on their family history.
His research into the Fitzwilliam family of south Wicklow has been extensive. Their estate, which began in the 17th century with the Wentworth clan, later the Rockinghams and then the Fitzwilliams, ran at one stage to 86,000 acres.
The Fitzwilliam connection with Coollattin ended with the sale of the big house and what remained of the estate during the mid-1970s.
He said Earl Fitzwilliam set up an accommodation programme which the O'Toole's benefited from in Canada.
Ms Lee said many descendants of people left south Wicklow went on to hold major roles in state office and also in the private sector. Jason Kenny from Carnew, for instance, was a former premier of Alberta in Canada and Eric Kenny went on to become Commander of the Royal Canadian Air Force.
Ms Lee said maps and ship lists kept at Coollattin House have enabled her and Kevin to bring people back to the cottage or field where their ancestors once lived.
The O'Toole family visited Tinahely, Coolattin House and New Ross during their two-week stay in Ireland.
Mr Lee gave a lecture on their history and they enjoyed guided historical tours of Shillelagh and Carnew, before dining in the Earl Fitzwilliam dining room in Coolattin House.
They were greeted by council officials in New Ross on Thursday where singer Stephanie Kinsella, violinist Naoise Carty and Tomás Kavanagh on keyboard, performed at the Emigrant Flame. Following a tour of the famine ship, they visited the Kennedy Homestead.
Mr Lee said he hopes to collaborate more often with the JFK Trust at the Dunbrody Visitor Centre, saying 800 families left south Wicklow leaving for North America and other far flung destinations from New Ross.
"I think they are both chapters of the same story. It was a very emotional experience for the family to walk through the wonderful Dunbrody centre. When people think of the Famine they invariably think of Mayo, Skibbereen and Galway but they don't have a monopoly on destitution."
Ms Lee said the trip the O'Toole's and other families take to Wicklow and Wexford provide a boost to the economy in the form of accommodation, eating out etc.
Sean Connick of the Dunbrody Visitor Centre said: "It's a brilliant story. We are always celebrating the Kennedy story but he was just one descendent of someone who left the quayside in Ne Ross. There were thousands. The O'Toole's story is an actual, factual story coming full circle."