New Ross Drama Workshop delight audiences with its production of Same Old Moon
​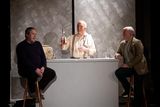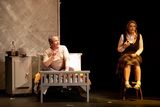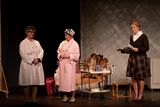 David Looby
New Ross Standard
Audiences were left in hysterics at New Ross Drama Workshop's play 'Same Old Moon', which was performed at St Michael's Theatre over three nights.
The group relished the opportunity to perform 'Same Old Moon' by playwright Geraldine Aron.
The autobiographical play presents colourful and often humorous vignettes from the life of aspiring writer Brenda Barnes (played by Brid Moloney). From age nine into her forties, she is seen through the eyes of her eccentric and unconventional family, particularly her reluctant father (Edward Hayden), her frustrated mother (Nancy Rochford Flynn) and her spinster aunt (Jeanette Sidney Kelly).
"The play was challenging to stage as it has 19 scenes and 21 characters," said director Kate O'Keeffe.
Many cast members had dual roles and the group's newest member, Corin Culleton, played four!
"We had wonderful audiences every night who travelled with Brenda Barnes from her childhood and teenage years to adulthood. Audiences were left in hysterics as Mother Superior (Anne Fleming Kelly) explained the mystery of procreation to an innocent Brenda.
"The New Ross Drama Workshop would like to thank our loyal audiences for their support and positive feedback and we look forward to putting together a production for the autumn."
New members are always welcome @newrossdramaworkshop.com