Good news for rural Wexford as New Ross area Local Link bus routes coming on board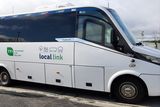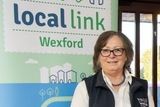 David Looby
New Ross Standard
New Local Link bus services into and out of New Ross are coming on stream in the summer and autumn.
The positive news for bus users was announced at the New Ross Municipal District meeting on Wednesday.
Mary O'Leary of Local Link said the turnover has grown from €500,000 to over €3m over a few years.
"We are all over Co Wexford, with a particular emphasis on rural area, with over 60 routes."
With 194,000 users of the service last year, all indications are that numbers will be up again this year, she said.
"We have more routes this year and we're experiencing phenomenal growth in rural areas."
The services include door to door by pre-booking the day before. Ms O'Leary said the demographic who use this service have been slow returning to it since the pandemic. Many young people use the service as parents see it as a safe way for their teenagers to travel on their own for the first time.
Ms O'Leary said the New Ross Community Bus is being replaced, adding that she is hoping that an increase in demand for it will lead to more days operation per week, beyond Thursdays and Fridays.
"We are trying to cover areas where the community bus is covering. We are trying to connect to the town centre and have been given Leap fares for this route.
"The 368 runs between New Ross and Enniscorthy and this has also been used as a town service where people can get on or be dropped off at Willow Park or Knockavilla and get down to the quay. There are four door to door services that come into New Ross, including from Hook and Hookless village and Carrig on Bannow and Clongeen. Some of the routes are more popular than others."
A new route, the 359, will bring people from New Ross to Kilmuckridge and is expected to come on line in the autumn.
The 353 will connect Clonroche and Adamstown, going on to Wexford.
The Hook service – which runs seven days a week – will connect with the Passage East ferry, with a bus connection on the Waterford side.
"Three high frequency services are coming into New Ross in addition to the 368." Cathaoirleach Cllr Michael Sheehan praised the work Ms O'Leary and her team have done in expanding the service.
"There are a huge amount of new routes and connectivity. It will be interesting to see how much they are used. With the services it's a question of use it or lose it but there are very few areas that won't be covered by the end of this year."
Ms O'Leary was asked if bus stops can be erected and district director Eamonn Hore asked for a list of locations to be furnished to the relevant department at Wexford County Council.
Ms O'Leary said Local Link provides a very affordable way for people to travel, and the free travel pass can be used on all services.
Cllr Michael Whelan raised the lack of taxis in New Ross, asking if a Local Link service could fill the gap. Ms O'Leary said she would need evidence and numbers to prove the need for the service in New Ross.
"We have a database of unmet needs. We do have a night service into Wexford from Ballycullane."
Cllr Pat Barden asked if a private group can use a Local Link service for a particular function and was told Local Link could pass on details of bus service operators, but does not provide such a service.
She said a trial of a community bus between Taghmon and Camross is planned.
Cllr John Fleming said he is a regular user of Local Link, saying the buses are spotless.