German exchange students enjoy time at New Ross school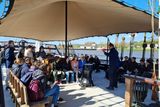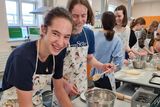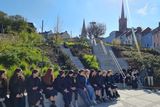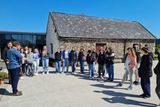 David Looby
New Ross Standard
St Mary's German school exchange for 2023 got off to a very successful start following a recent visit.
"We have just completed a very busy and fun-packed week showcasing our school, New Ross and the surrounding area to our German exchange partners," said St Mary's principal John Michael Porter.
On Monday, April 17, 24 students along with their two teachers arrived from Marktoberdorf, Bavaria arrived in New Ross. The town is located about 100 km south of Munich in the Allgäu, a very picturesque area near the Austrian border.
"That Tuesday was filled with new experiences for the German students. We introduced them to camogie and they were very enthusiastic participants in the various drills, with some great natural talent on display. Following a hearty Irish breakfast in the canteen they tried their hand at baking scones. After lunch there was Irish music, singing and dancing, finishing up with a céilí, which made for a very entertaining afternoon."
Over the next few days students completed a coastal walk in Carne, visited Hook Lighthouse, the Dunbrody Ship and Kennedy Homestead and on Friday took part in a cycling tour of Kilkenny, with a visit to Kilkenny Castle in the afternoon, accompanied by teachers who made excellent hosts.
"Our German visitors were delighted with their experience, friendships were cemented and we are very excited about our return trip to Germany in May," said Mr Porter.