Filming of hit film 'Small Things Like These' in New Ross was a joy according to extras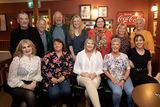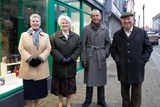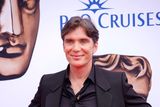 David Looby
New Ross Standard
SOME of the extras on the film 'Small Things Like These' starring Cillian Murphy met up in Spider's pub in New Ross to reflect on their experience recently.
They chose the pub as it was an extras hub during filming, with one of the extras travelling from Arklow to be part of the event.
New Ross woman Annette Stacey said everyone involved loved being on set, even if this meant standing out in the cold last March.
Stacey was involved in drama and pantomimes in St Michael's Theatre in New Ross down through the years but only performed once. She is currently working as an extra on season two of The Tourist, starring Jamie Dornan – which is being shot in Wicklow.
Stacey said like all extras she applied to Celtic Casting having seen a post on social media.
"I have been involved in the theatre nearly all my life. My father Tony Stacey won awards for drama and was in many pantomimes and three of my sisters have been in pantos. I was always doing front of house and backstage work.
"Because the film was being made in New Ross I felt it was a once in a lifetime chance. Like a lot of people I felt it was a great opportunity for me to be able to say I was involved in a film."She said the extras joked they could end up on the cutting room floor when the film is edited, but they all hope this isn't the case.
"Most of us were there for two long nights from 4 p.m. to 4 a.m. filming the choir scene on Quay Street. They were very cold nights."She said the extras were fascinated to see how a film was made up close, adding that they learned a word that will stay with them for life. "Reset was said many times meaning a retake of a scene. We were all getting fed up of the word reset, but everyone enjoyed the experience and there was a great sense of fun in being involved in it. You would know a lot of people in town but you might never have sat down and spoken with them."Over a few drinks the extras shared stories about their filming experience and got to know one another, after an invite was extended for all extras to attend. "It was brilliant! We had a good few laughs and reminisced about our film experience."
The extras had nothing but compliments for Celtic Casting and the entire production team. "They looked after us really well. We got teas and coffees and everyone down to the make up and hairdressers all said they had a good experience working with them.
"A lot of us were called in for long nights. I got a call to go in on the Saturday before I was due to and for the two days so it was spread out over a couple of weeks."
Paid around €10 an hour before tax, the extras weren't in it for the money.
"We are all looking forward to seeing the film. We said we'd all go see it together but are afraid we'll be jumping and shouting too much if we're in it. It will be great for our children and grandchildren to be able to say my Mam or granny was in a film shot in New Ross. It's good for the town as well."