Fethard Bargains & Bubbles event raises €4,250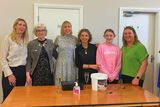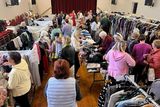 David Looby
New Ross Standard
A crowd of bargain hunters supported a fun event in The Hall in Fethard on Sea.
Bargains & Bubbles was organised by the hard working local committee of volunteers and received huge support from businesses and the local community.
A whopping €4,250 for the Community Garden.
The organisers thanked everyone who came and supported, especially Anne Nunan, Irene, Cormac and Ciara O'Leary, Julie Parslow, Siobhain Moriarty Neville, Luna and Hazel Neville, Sandra Dillon Howes, Mags O'Regan, Jean Kelly, Eileen Finn, Anne Tweedy, Breda Kidd, Lena Singer, Rose Dillon, Dillon's Londis, Molloy's Bar, Hook Lighthouse, Wallace's of Wellingtonbridge, The Hall Committee, every one who donated clothes and rails.
"It was a true team effort!"