European cultures celebrated at rural Wexford primary school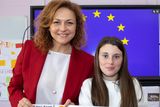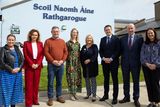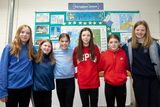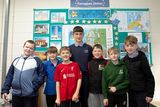 David Looby
New Ross Standard
The pupils in 4th, 5th and 6th classes in Scoil Naomh Áine, Rathgarogue are up to speed with European cultures having participated in the Blue Star Programme.
Their work was celebrated at a Europe Day celebration at the school recently, attended by Ambassador of Cyprus to Ireland, Charis Christodoulidou.
This programme teaches primary school pupils about European cultures and the European Union through creative activities and projects which complement the national primary curriculum. The programme concluded with an epic Europe Day celebration.
In preparation for the Europe Day celebration, the children wrote letters to local representatives and TDs in January, inviting them to visit the school to talk to the children all about their roles and involvement in Europe.
"The pupils were thrilled with the number of VIPs who were able to accept their invitation. We were honoured to welcome Minister of State James Browne TD, Charis Christodoulidou, Verona Murphy TD, Cllr Bridín Murphy, Cllr Pat Barden and Cllr John Fleming to our school," said Rathgarogue principal Anne Marie O'Neill.
"Our Student Council played the important role of welcoming our dignitaries and parents to our school. A number of our pupils made some speeches to explain what the programme entailed. This was followed by questions from the children who wanted to hear all about our VIP's jobs." The visitors were impressed with the children's European projects on display in their classrooms. Students also prepared a native dish from their country for others to taste.
"In the Halla Mór we had lots of beautiful art work inspired by European landmarks and artists on display. To conclude students played 'Ode to Joy' which is the European Anthem on Tin Whistle. Well done to all the pupils, their parents and teachers for all their preparation for making Europe Day such an enjoyable and successful event for all."