Duncannon Fort masterplan works to be completed by August 2024
Three buildings are to be brought back into use under the masterplan, which is to be finalised by this autumn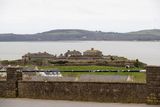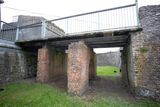 David Looby
New Ross Standard
Three of the buildings at Duncannon Fort will come back into use under a masterplan being developed by consultants this year.
"Urban Scale Interventions (USI) have been appointed and a programme agreed, for the creation of the masterplan for the Duncannon Fort site," New Ross Municipal District manager Alan Fitzhenry said at the body's May meeting.
It is planned to have the masterplan completed by this autumn.
"A project launch meeting took place in April, followed by a site visit on May 2. The multi-disciplinary team from USI toured the entire site with district team members and the Heritage Officer," said Mr Fitzhenry.
"The first phase of work for USI is research and information gathering, with stakeholder consultation to follow."
The project team are currently preparing a schedule of works for Duncannon Fort. These works will include replacing the current bridge deck, fixing the electrical wiring issues, upgrading the toilet facilities and painting/general works on three buildings to make them usable again.
Funding has been secured under the Town & Village Renewal Scheme, with match funding from Wexford County Council, and works are to be completed by August 2024.