Wexford water baby Doireann to make a splash in aid of those who support her with her epilepsy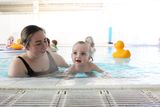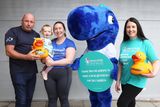 Young Doireann Behan from Gorey may only be one-year-old, but she has already experienced 11 seizures and had more hospital visits than many will have in their lifetime.
However, while Doireann's epilepsy has proved challenging for her and her family, her swim sessions organised by Ireland's leading baby and toddler swim school Water Babies have helped to bring calm into their lives. Now, Doireann and her family want to make a splash by taking part in a fundraiser for those who have provided them with unending support.
In recent weeks, Water Babies launched their Splashathon for Children's Health Foundation with the help of Wexford Water Baby Doireann, along with Dublin Footballer Philly McMahon and Stephanie Preissner and her baby Rori.
This month, Doireann along with with other little swimmers and their parents from Wexford will be splashing into the water in their super hero costumes at a sponsored Splashathon event which takes place at Water Babies classes.
Through the initiative, they aim to raise vital funds for Children's Health Foundation, supporting Children's Health Ireland at Crumlin, Temple Street, Tallaght and Connolly.
While Doireann is now on medication and her seizures are under control, her family wanted to give back to those who cared for her during those challenging times.
"Every time we are in Crumlin, Doireann has received the best care. Every single person we have come across are so lovely and make you feel so calm. We love our swim class it's a great way to spend one to one time," said Doireann's mother Eabha.
Speaking of the fundaiser, Carol McNally of Water Babies, Ireland said that "Water Babies' Splashathon fundraiser is a wonderful way to make a real and lasting difference to sick children across Ireland".
"We are so proud to support Children's Health Foundation with this year's Splashathon and we're very pleased to have raised over €131,000 for children's charities since Water Babies launched in Ireland 14 years ago."
To get involved or donate, visit Just Giving – Water Babies Splashathon.
Water Babies is the world's largest baby swimming company teaching more than 60,000 babies and toddlers every week operating in six countries on three continents. They promote the idea that all children should learn to swim from as early as possible, so that they can have fun, bond with their parents and, should they ever fall in water, have the best possible chance of surviving.