Wexford parents highlight their desperation as respite services in north Wexford remain closed
​For many parents respite is 'their only break'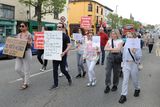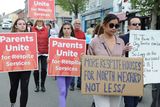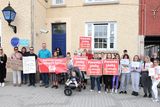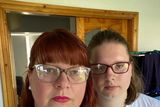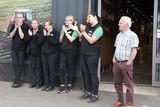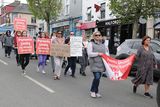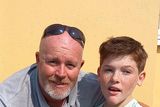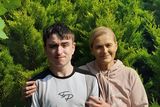 Desperate, exhausted and isolated are just some of the ways parents of St Aidan's respite service users have described their state following the announcement of the service's 12-week closure from May 1.
At the beginning of the month, St Aidan's announced that it will close its respite services at Mulcahy House for a twelve-week period, citing staffing challenges as a reason behind the closure. On Friday, 19 days since this news came to light, parents, caregivers and people from around the community walked down Gorey Main Street in a peaceful protest with one aim only – to call for the reopening of the service they consider a lifeline.
For some of these full-time caregivers, the respite days are their only opportunity to take a break and recharge. This is the case for Janet O'Hagan from Gorey, whose 21-year-old son Zion requires full-time care.
"I'm rearing my son myself. I don't have any help so when this respite shut down, it meant there's no break for me. My son is 21, he's 6 foot 6, he has moderate to severe autism, developmental delays, he has a lot going on. The respite was my only break. I basically just got a letter to say we're closing it down and there was no consideration for the domino effect that would have on me and my son. For the first time in 20 years, I was meant to be going away to a wedding for four days this June and had hoped to avail of the respite services. That's not happening now," she explained.
The past few weeks have been particularly difficult, said Janet, who said that now, there is "no light at the end of the tunnel".
"This is something you could look forward to and say 'you never know, I might get two nights free at some point in this year'. That's not going to happen now. This is it. This is my life. There's no one knocking on my door to make sure I am ok. It is very isolating, to be honest," she said.
Janet was very keen to stress that she adores her son, but said that the respite gave her the chance to recharge from time to time, while also giving Zion a bit of a holiday.
"I adore my son but because all of the things going on for him, I do need that help. He's a big guy so it's hard going," she said. "We as caregivers know we need to recharge our batteries and they need a break away. What 21-year-old wants to be with his mother 24/7? They don't.
That was his holiday. 'I'm going on holiday,' he would say to me. It took him out of his own bedroom. There are long corridors which he could skip up and down, which he can't do in his own home. It is just soul-destroying. I don't think people realise by just signing on a piece of paper with the pen, the ripple effect it would have on the parents."
Also at the protest was Eileen Kennedy from Gorey, whose daughter Bernadette (48) avails of the respite services at St Aidan's. For Eileen's family, the service simply gives them all the opportunity to take a break.
"The service gives us a break. My husband is 81 and I am going on 75 and we're getting older and she's getting older," she said. "Bernadette is kind of manageable but you need a break. You need a break. We do need a break."
"Bernadette can't understand why it's closed. She keeps saying 'when am I going to respite?' and I can't tell her because I don't know."
Since the closure, a three-person committee comprising parents of those who use the service has been established under the name 'Parents Unite for Respite'. Secretary of the committee, Darren McGovern said that the manner in which the news was communicated was "immoral" saying that, without the support of respite, many parents and caregivers are "prisoners in their own home".
"I'm currently unemployed since January and the reason for that is my home life has changed over the last 15 years but my occupational life hasn't. What happened is my home life has now caught up with my occupational life. My child is non-verbal, has cerebral palsy, a host of medical conditions and shortcut syndrome, meaning that he has half an intestine and no ileocecal valve," he explained.
"My family were up the other morning at 3 a.m. cleaning excrement off bedroom walls, changing beds, putting on washing machines, all to get back into bed at 10 to four and then we're up at half six or quarter to seven to do the lunches, breakfasts and the school run.
I used to get up at three or four in the morning to go to work so you can understand the effect this is having on me. It is no accident I am in the position I am in."
With Mulcahy House closing several times in the past year, the service users and their caregivers are no strangers to the service being pulled from them. However, the sudden manner of this closure and the cumulative effect of such disruption has many of them at breaking point, as Darren explained.
"We as parents and caregivers have put our shoulder to the wheel and tried to work with the management of St Aidan's so, when they pulled the service from us in the past, we didn't complain, we didn't kick up. We put our shoulder to the wheel and cared for our loved ones the way we always do. The manner in which it happened this time is the straw that broke the camel's back."
PRO for Parents Unite for Respite, Debbie Kennedy lives in Camolin and is a full-time caregiver to her six children, all of whom have Autism Spectrum Disorder (ASD). Following a recent devastating diagnosis, she was hoping to avail of the respite services for her nine-year-old son but now, she is completely at a loss.
"I have one nine-year-old that will need respite and it's only this week it has really come to light as to why. I got bad news myself. I have two tumours, one on my pancreas and one on my liver and I need help. But I don't have any help. I don't have the option now to go on that list. I am not asking for respite for my six children, but I might need one to be looked after, just a few hours here and there," explained Debbie.
Debbie's son has come to know staff at St Aidan's preschool, where he attended for two years, as well as at Gorey Educate Together and the mother of six emphasised the importance of these "pods of people" for her son.
"I don't know how long I am going to be sick for or what my battle is yet but I need to know that I can have him there for a few hours to transition in there so if things don't work out well for me, that I know he's not out in the open, that he has these little pods. But they're not giving him a chance to let him get in that pod. While this is closed, I have nothing," she said.
What do I do, ring a social worker and say 'please' only for the child to be put in surroundings I don't know? No mother can do that. It is a big ask of any mother to trust St Aidan's and they are super people and that's why we do trust them. They are not there for the pay, they are there because they love the children and so do all the staff. They are super. We don't have anything against the staff. We think they're wonderful."
With no clear reopening date in sight, Debbie has fears for her and her family's future.
"My fear is that no one is going to help us to reopen this and I'll be left out in the open and in doing that, I might have to refuse treatment because I won't have any back up. My family and I are close but there is only so much you can ask for from them."
Debbie, along with many others at the demonstration, noted the lack of political representation on the day.
"We are very disappointed that none of the councillors came today. It is a shame to think we may need to take it out of Wexford and go to the Dail. I don't even have words to describe it," she said.
"I am ashamed to say I came forward ten years ago and helped everyone in the community, from Courtown to here and not one of the councillors has come out today to help us. I am very saddened by it."
"Our local representatives are nowhere to be seen," echoed Darren. "We haven't seen or heard from any of the ten councillors and they will all be looking for a vote next June."
Although there may not have been any councillors present on the day of the demonstration, there was representation from people around the community. While Brigid Nolan's daughter Michaela does attend St Aidan's, she is not a respite user. However, the Gorey woman was keen to come out to show her support for other families, and to advocate for her loved ones that may require the service in future.
"I have two grandsons with special needs and they might need it down the line and there are so many parents who do need it so I feel I have to come out and support this," she said.
"If you haven't got a special needs person in your life, you don't know the trials and tribulations we go through. You don't get a day off. It's seven days a week."
Meanwhile, Owen Dunbar walked up Gorey Main Street with the group as a "concerned citizen of the town".
"There isn't a person in town that doesn't have someone availing of this, or who may want to avail of the services of St Aidan's over the years," he said.
"I can't think how I would cope if I had a special needs kid who needed 24-hour care. What would you do? I am just here to put my weight behind the people who this does really affect. This was funded by the people of Gorey. It is there for the people of Gorey and the district."
Chairperson of the Parents Unite for Respite committee, Jillian O'Neill Finn, whose own daughter Roisin has been availing of the respite service since last year, said that the feeling amongst parents and caregivers was one of pure desperation.
"It has been desperate, literally absolutely desperate for anyone in the community, anybody that's receiving respite and people on the waiting list to go in for even one night. The last few weeks have been awful on parents. We've had a few meetings and they're mentally exhausted. They have no help. These respites are so vital for people," she said.
The committee requested a meeting with the management of St Aidan's, whose management had said in a previous statement that they were willing to meet with the group. In addition, the committee emailed St Aidan's seeking answers to specific questions regarding the way the closure was handled, along with those regarding the organisation's level of staffing, clients, funding and property owned.
"This isn't a war between the management and Parents Unite for Respite. We have asked why didn't you inform us that we were racing towards a brick wall in relation to respite and we as parents could have done what we have done today to raise awareness and keep the service open? Why was the closure the first port of call and the remedy come later?" said Darren on Friday. "It's not like we asking for the service for free. We give money, along with the HSE and the taxpayer."
However, the group has yet to receive responses to their specific questions, while their invite to a meeting in the Ashdown on Monday was not accepted by St Aidan's.
Responding to the committee's request for a meeting with St Aidan's management, an email signed by CEO of St Aidan's, Eimear Mannion said:
"As we have indicated in previous correspondence, we will continue to deal directly with individual families on all matters, including updates, relating to respite provision.
All of us at St Aidan's will continue to do everything possible to restore this much-valued and needed service within the timeframe as already announced."
On Tuesday, the Parents Unite for Respite committee said that they have filed a Freedom of Information request to seek information from St Aidan's regarding the closure.