Wells House in Wexford brings 200-year-old walled garden back to splendid life
Team of gardeners at one of Wexford's top attractions have overseen a major restoration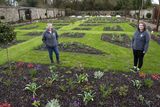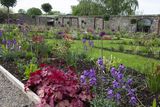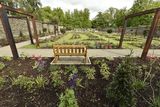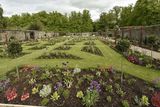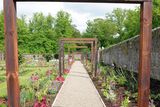 For many years, what lay beyond some 200-year-old stone walls in the grounds of Wells House remained a mystery to the many people who visit the attraction annually.
Now, owing to the work of a team of gardeners, the gate has finally been opened to the public to reveal a fully-restored walled garden, vibrant with colour and buzzing with birdsong.
While the garden contains approximately 6,000 new plants, Head Gardener Clare Hayes ensured that the restoration project gave a nod to gardeners of generations past, whose hours of hard labour helped to create the fertile soil that exists within it today.
"With this garden, we are very much paying respect to the previous gardeners and their organic practices. When we started, to say I had soil envy is an understatement. Every time we dug a hole, I was noting how beautiful the soil was. This is down to hundreds of years of fertilisation. There was an awful lot of seaweed and manure put into it and also, for many years, it was overgrown. It was completely and utterly untouched," explained Clare, who has worked at Wells House as Head Gardener for two years.
When Clare and fellow gardeners Conor and Lynn first took on the project in February, the walled garden sat behind locked gates, completely overgrown. Together, the trio developed a vision to redevelop the garden, using the habits of the regular visitors as a guide for how to proceed.
"Having observed how people interact with the other spaces in the grounds over the past two years, I very much noticed that people try to get in amongst plants and enjoy the sensory element. For here, while I did want to keep it formal, I very much want people to just step off the path and be completely immersed, to literally stop and smell the roses," explained Clare.
The seasons and the changes that they bring also served as inspiration for Clare when developing the garden.
"In any garden I have designed or even my own, I always like to see something. I like to create that expectation of what's to come, where you can see your spring bulbs coming up or your lilies in July. There is always the anticipation and excitement of what the garden is going to bring."
The walled garden incorporates plants, herbs and vegetables of all varieties, with 95 per cent of what has been planted sourced in Ireland. It is brimming with perennials and roses, while the centre beds contain primarily roses, lavender and salvias. At the end of the garden, Clare and the team have incorporated vegetables, herbs and fruit. While the optics of the garden vary throughout, the gentle and non-invasive approach to maintaining it will be used throughout.
"That veg area is going to be no dig. You don't need to plough everything year after year. You can regenerate and grow things without disturbing the soil," said Clare.
When deciding what went where, Clare needed to take lighting and shade into account. As walled gardens typically have their own microclimate and are several degrees warmer than the land beyond the walls, there was room for plants, fruit and vegetables that require warmer and more sheltered conditions than can be offered in the rest of the grounds.
The newly-restored walled garden is one of three walled gardens at Wells, with the other two yet to be worked on. While the new garden sits on half an acre, Clare is hoping that those with much smaller spaces can be inspired to create their own slice of paradise after visiting.
"I think gardens are there to inspire people. Some of these beds are two square metres and if this was the size of your whole garden, I wanted to show that there is so much that you can do with it. I hope that the garden will inspire people to see that they do have the space to create something," she said. "It's also just a quiet space for people to come to. Since we have opened, we have observed people sitting quietly on the bench and soaking it all in."
With the walled garden now complete, Clare is turning her attention to other areas in the Wells House grounds.
"It is such a large estate. Just at the other side of these gardens are ancient woodlands. They would link back to the age of this house, the 1600s. There is a massive amount of invasive cherry laurel that needs to be removed and that is a longer slower piece of work," she explained. "The woods there are very quiet because there isn't that lower canopy needed in a healthy ecosystem. It will take time to remove all of that. While that work isn't as pleasing to the eye as a walled garden, it is very important to the whole ecosystem of the whole estate so we will keep chipping away at that."
While that work continues, Clare is hoping that people will pay a visit to the garden and immerse themselves in it.
"We really want people to come and visit and enjoy. When they visit, we're inviting them to step off the gravel paths, get in amongst the plants and enjoy it."