Trade and film opportunities explored during Canadian Ambassador's North Wexford visit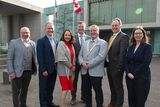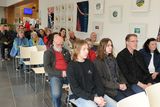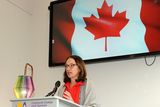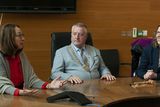 Trade, Ireland-Canada connections and film opportunities were some of the topics up for discussion when Canadian Ambassador to Ireland Nancy Smyth paid a visit to Gorey.
The Ambassador, who was invited to Gorey by Senator Malcolm Byrne, was in north Wexford to explore ways to strengthen links between Ireland and Canada. Her first stop of the day was Gorey Community School, where she had an engaging discussion with the student council and students in the sixth year Politics and Society class.
"The Ambassador had a very busy day but she included Gorey Community School in her schedule and we were delighted to welcome her here. The visit was a big success. It was absolutely lovely. She was so natural and such an easy person to speak to," said Principal Michael Finn.
"We had the student council convene. They are very active. They all have their places on the council due to a hard-fought democratic election process. Anyone on it is voted in by other students. The Ambassador was fascinated by the democracy of the establishment of the student council."
Students from the Politics and Society class also had the opportunity to speak with her about their political interests and what they hope to pursue once they finish secondary school.
"She spoke about herself to the students as well and I think the point that had the most significant impact was the fact that her own grandmother emigrated from Donegal to Canada and there's something magical about her returning."
The Ambassador also spent some time discussing the film industry in Wexford with John Gleeson of Tara Studios and representatives of Screen Wexford. In their meeting, they discussed ways to further develop Irish Canadian co-productions in the film, television and creative industries. Tara Studios is set to commence construction of the largest film and TV studios in Ireland toward the end of this year at Borleigh Manor, just North of Gorey.
"There exists already significant levels of cooperation in producing film and TV series between Ireland and Canada. We talked about how that could be enhanced; the financing and tax structures and how we could attract more Canadian companies to come film here. I'm really excited about the potential of Tara Studios and having Canadian partners will be a huge advantage," said Senator Byrne following the meeting.
The Ambassador also paid visits to The Hatch Lab and IWP Pallets at Wells to explore how further trade links between Wexford and Canada could be developed. To conclude her visit, Cathaoirleach of Gorey Kilmuckridge Municipal District Councillor Donal Kenny hosted a civic welcome at the Council Offices in Gorey. He presented the Ambassador with a hand-crafted bowl carved by local artist, Robert O'Connor. Following this formal welcome, members of the public were invited to join the Ambassador for an informal discussion in Gorey library about connections between Ireland and Canada.