Thought-provoking Wexford exhibition shines a light on issue of domestic violence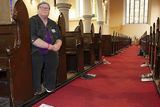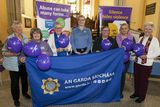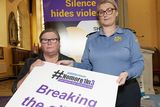 Pairs of shoes were dotted alongside pews in Gorey's Christ Church as The Mothers' Union joined forces with Gorey Community Garda Carol Byrne for the Garda Go Purple day – a nationwide initiative which aims to raise awareness of domestic abuse and local domestic abuse support services.
Through a thought-provoking exhibition called 'Walk a Mile in My Shoes', the group told the stories of some of the many domestic abuse survivors around the country. Along with Garda Carol Byrne, several members from the Mothers' Union were on-hand at the event in Christ Church to give information about their organisation and to signpost people to local domestic abuse services.
Through shining a light on domestic violence, the gardaí and The Mothers' Union hoped to remove that shame that so many facing abuse experience, while also point them towards some of the support services available to them in their local area.
According to Garda Carol Byrne, when it comes to cases of domestic violence, the primary role of the gardaí is to support people in reporting the issue.
"Our main area is supporting them in reporting it and serving orders on the person involved," she explained.
The gardaí can also point people towards a number of services that may be of additional support to them, explained Garda Byrne. This includes organisations like Women's Aid and Men's Aid, Safe Ireland, Free Legal Advice Centre (FLAC) and MABS. A comprehensive list of relevant services is available from the Wexford Court Office website.
Walking away from a violent situation isn't easy, acknowledged Garda Byrne, who said that many people need to take small steps to build their confidence and reach that point.
"A lot of it is about not being ashamed of the fact that they're not feeling brave enough to leave. It's about giving themselves the right and courage to leave but also not feeling that they have to leave immediately. People can start putting steps in place and work towards getting out of the relationship, and that can take a while. Some people leave immediately but many need to build up the confidence to remove themselves from the situation and reach out to services," she said. "If anyone wants to speak with a guard, we would be happy to do so."
Go Purple Day was established by An Garda Siochana several years ago and every year, events are held around the country to shine a light on the issue of domestic violence. This year, The Mothers' Union reached out to Gorey Garda Station with a view to teaming up and as a result, several of their members joined Garda Byrne on the day. These included Diocesan President Lesley Bayley, Diocesan Secretary Cecily Jones, Unit Coordinator for Action and Outreach Valerie Power, MU Enterprise Representative Naomi Besanson and Gorey Branch member Dorothy Stedmond.
The issue of domestic violence is one that is very close to Lesley Bayley's heart. A survivor of domestic violence herself, Lesley's own story began during her honeymoon when her new husband threatened to kill her with a bread knife. For the following eleven years, she lived in an abusive and coercive relationship, eventually finding the strength to leave and forge a new life for herself in Wicklow.
Lesley is not alone. As pointed out in the campaign, worldwide, one in three women and one in six men suffer from some sort of domestic violence or abuse in their lifetime.
The Mothers' Union is a Christian mission led charity, supporting families and communities in the UK, Ireland and around the world. The members promote social justice, speak out on a variety of issues including gender-based violence, human trafficking and early marriage and do work aimed at tackling poverty, loneliness and isolation. In the Church of Ireland Diocese of Cashel, Ferns and Ossory, Mothers' Union has 23 branches and 250 members.
The Mothers' Union will be at the Gorey Show next month for the first time and they hope people will drop in to say hello and find out more about the work the charity does locally, nationally and overseas.