Students turn trash into treasure in inaugural Wexford Rubbish Film Festival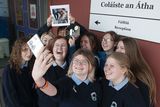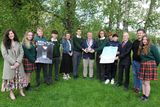 Gorey students channelled their creativity for a good cause when they took part in the inaugural Rubbish Film Festival – an initiative aimed at shining a light on pressing environmental issues through art.
The festival, which challenged transition year students to create a one-minute short film on an environmental theme such as climate action, reducing waste, and sustainability, was facilitated by Createschool and supported by the Environment Section of Wexford County Council. Five schools submitted entries, with two of the top awards being scooped by Gorey students.
Colaiste an Atha, Kilmuckridge won the Best Film Award for their film entitled 'You Can't Run and Gorey Community School won Best Poster Award for 'Fast Fashion'. Both schools received trophies for their creative endeavours from Cathaoirleach of Gorey Kilmuckridge Municipal District Council, Councillor Donal Kenny.
"The students showed great creativity and skill in their use of film to develop and express their views on a range of climate action and sustainability topics," he said.
Councillor Maura Bell, Mayor of Wexford Borough District presented the award for Best Runner Up Film to Selskar College, Wexford for their film 'How Would You Like It'. Councillor Maura Bell congratulated all the students involved and stated that "it was inspiring to see students deliver their message and raise awareness of environmental issues amongst their peers".
The Best Film and Best Poster will now go forward to represent Wexford at the National Awards in Meath.
"We are delighted with the success of the 'Rubbish Film Festival'. The students have shown great creativity, and their enthusiasm for environmental issues has been inspiring. We hope that the festival will encourage more young people to take action to protect our planet," said Peter Baxter of Createschool.
Following the success of this year's pilot event, plans are underway to expand the Rubbish Film Festival next year.