Senator Malcolm Byrne says Sipo complaint about The Ditch is a matter of political campaigning and financing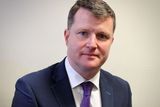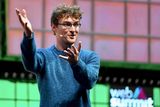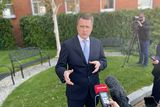 Senator Malcolm Byrne has said that his complaint to the Standards in Public Office Commission (Sipo) over a donation made by Paddy Cosgrave to The Ditch is not about stifling the news website but rather, ensuring it will adhere to the electoral acts if engaging in what he believes is "political campaigning".
Senator Malcolm Byrne has written to Sipo, claiming that neither Mr Cosgrave nor Web Summit are registered as corporate donors. In his complaint, he references Mr Cosgrave's interview on RTÉ's This Week, where he says Mr Cosgrave "admits that the purpose of Web Summit's donation to The Ditch is a political one and he outlines the agenda of the online platform".
In the interview, Mr Cosgrave said he allocated €1m to The Ditch over five years through his company Web Summit. Senator Byrne is claiming that The Ditch constitutes a "third party" under the electoral act and says this is above the allowed threshold of political donations that registered corporate donors can make.
"Sipo has responsibility under the electoral act to deal with campaign financing. One of the things they deal with is the question of political donations. Political donations can be made to candidates, public representatives, political representatives and third parties," he said. "The case I have made – and I think it will be an interesting test case – is that The Ditch is a third party. Paddy Cosgrave has said in his interview that it is political platform with political objectives, and the editors have clearly expressed their opinions. My question is not about stifling them expressing their views. The question is, if you make a donation to a political campaign, you should be subject to the same rules as everyone else. I am in no way suggesting that The Ditch should stop what it is doing."
When it was noted that one of the roles of the media is to hold people in positions of power to account and asked what how he sees the work of The Ditch as political campaigning rather than political reporting, Senator Byrne said "The Ditch is right, as is every journalist, to hold people to account".
"The issue, however, is when it is stated that the objectives are clearly political, which Paddy Cosgrave and the editors themselves have said is part of the function. It speaks to a wider question. If Paddy Cosgrave wanted to give money to a political party in order to change the government, there are campaign finance rules he would be expected to obey. He has chosen not to do that. He has chosen to set up a political platform and he is perfectly entitled to do that. The case I made to Standards in Public Office Commission is if you give money to a third party that is engaged in political campaigning then you are subject to the rules of the electoral act."
While Senator Byrne said he did not wish to point out specific examples of what he believes to be "political campaigning" on The Ditch website, saying that it would lead to a debate about individual stories, Senator Byrne said that it is clear from looking at the website's content and listening to interviews with those involved that there is a political element.
"If you look at what appears on The Ditch, while some of it is clearly investigative journalism, a lot of the stuff is very much of a political direction and it is clear from the interview Paddy Cosgrave gave as well that his view was to take on government politicians and take on An Bord Pleanala. The fact when Justine McCarthy asked him about the purpose of The Ditch that he as the controller of The Ditch was able to outline what his political purpose was indicates that it is a third party," he said, adding that while he believes someone has every right to set up a political website, they must be subject to the rules of the electoral act.
"There are a number of cases there where subvergence from what you might call opinion to political campaigning. If you read some of the stuff, it is very clear it is moving in that direction," he continued.
This latest development comes two weeks after The Ditch published an article relating to Senator Byrne's Fianna Fáil colleague, Minister James Browne.
Under the headline "Fianna Fáil minister directly appointed constituency party member to state role", the article stated that Minister Browne had appointed Gorey hunter, shooting range owner and firearms expert Paul Walsh to a "€400 plus expenses state position without interview".
When contacted for comment this week, Enniscorthy-based Minister Browne stated: "It's a Department of Justice issue. And you should seek comment from the department directly on it."
Minister Browne also stated that "the interview process was carried out and everything was above board" and that the committee which Mr Walsh sat on had now closed.
At the time of publication, the Department of Justice had failed to respond to queries in relation to Paul Walsh's appointment to the government committee.
While Senator Byrne said that he believes that both The Ditch owners and editors "need to be more transparent about any links or experiences they have had or anyone associated with them has had with An Bord Pleanala, Fianna Fail and Fine Gael", this is not the focus of his complaint.
"They are very welcome to campaign on any issue. The more people come into political debate the better. I'd love to see Paddy Cosgrave's name on a ballot paper. But this is a question around political campaign funding and we have to have a level playing field when it comes to political campaign funding," he continued.
"Their views are clear. My dispute is around campaigns and finance."
In a statement following news of Senator Byrne's complaint, a spokesperson for The Ditch asked Senator Byrne to reflect on whether his complaint will be "in any way effective at silencing journalism he considers damaging". When this comment was put to Senator Byrne, he said that this was "not at all" what he was trying to do.
"I have been a long supporter around quality journalism, around public sector media funding. As part of the Oireachteas Media Committee, we actively supported the fund that is supporting local newspapers," he said. "This has nothing to do with quality journalism. This is an effort by The Ditch to deflect from the fact that they received a million euro donation from a millionaire. I don't believe that multimillionaires should be seeking to use their money to set the political agenda in this country. I just believe that if you are going to fund political activity, you have to adhere to the electoral act."
Senator Byrne said that, ultimately, it is up to Sipo to determine whether The Ditch is considered a third party and will need to adhere to the electoral act.
"The ultimate point would be whether Sipo determines The Ditch is a third party for campaigning purposes. If Sipo determines that The Ditch is a third party, then it is subject to electoral campaigning and financing rules. If it determines it is not, there is no bar on millionaires funding online activity that is targeted at political objectives," adding that he doesn't wish to see Ireland go down the same route of the USA where "where wealthy people in order to pursue a particular agenda can put money behind campaigns".