People of all ages welcome in Bealtaine and relive traditions at successful Gorey May Bush Féile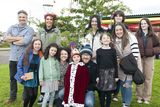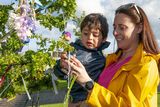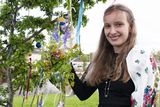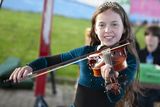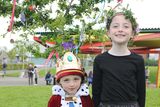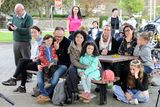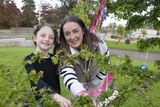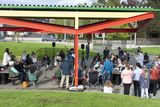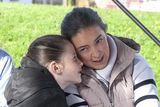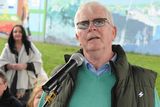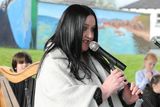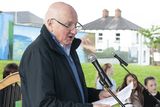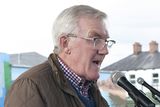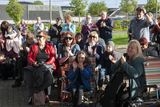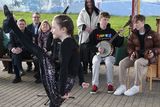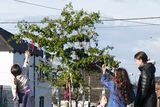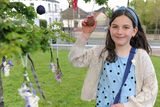 Record numbers gathered under sunny skies in Gorey Civic Square to welcome in Bealtaine at the annual Gorey May Bush Féile 'Let's Decorate the May Bush' event.
Throughout the evening, people of all ages from across the community joined together to share traditional song, music, dance, poetry and stories, while local children and their parents also hung their painted eggshells, posies and ribbons on the communal May Bush.
In keeping with tradition, the opening ceremony commenced with Gorey Pipe Band and John Cullen treated the community to a fantastic set of tunes. The evening was officially opened by Councillor Andrew Bolger, who emphasised the importance of the event for Gorey District.
"Being outdoors together sharing in this way always feels so authentic. One couldn't help but remember those who came before us, and reflect on how important the younger generation are as bearers of our shared May Bush tradition, agus bhí an ghrian ag rince linn," added Rachel Uí Fhaoláin, who hosted the relaxed evening under the Circe Pavilion in Gorey.
Standing beside the vibrant Gorey May Bush is an inscribed stone donated by Kavanagh's of Gorey in 2018 which includes the inscription from a newly-composed song that Rachel created with local primary school children – 'Let's decorate the May Bush, tá Bealtaine anseo'.
Indeed, the Gorey May Bush Féile has a strong focus on the younger generation, providing opportunities for young people to learn, engage with and carry forward our customs and traditions. In 2022, The Gorey May Bush Féile announced a new role within the Féile programme, a young resident musician – Ceoltóir Óg. Building on that success, this year a young resident dancer role was introduced – Rinceoir Óg. The Rinceoir Óg for 2023 was 12 year-old Síofra Willoughby from Gorey. Síofra impressed all with her talent, as did young musicians Cian and Ryan Harper, Éire Ní Fhaoláin and Chulainn Ó Faoláin.
Local artist Amanda Doran crowned Ultan McGinty and Nessa Dooley the 2023 May King and Queen and the talented children wowed the crowd with their songs and dancing throughout the evening.
Members of the Gorey.PL- Polish Cultural Association, who have long been huge contributors and supporters of the Féile, presented a carved egg to Féile organisers on the evening, while a May-themed poem in the Polish language was recited by Ola Riquet.
In an effort to encourage community engagement with the May Bush tradition, the first May Bush Decorating Competition took place in Gorey Library back in April 2018 at The Gorey May Bush Féile annual May Bush Decorating and Traditional Song Workshops, which are hosted by local artist Amanda Doran and traditional singer Rachel Uí Fhaoláin. These workshops took place again this year and proved to be very popular. Little hands were helped by the artists and their parents, all busy learning together about the May Bush tradition and preparing their eggshells and posies for May Eve.
The Gorey May Bush Féile would like to express a huge thank you to Wexford County Council, the community and local businesses for their continued support down through the years. Prizes for the competitions were donated to The Gorey May Bush Féile by local businesses including Making Music, The Bookstation, The Bargain Den and Art & Hobby Shop.
Those who wish to get involved in 2024 can get in touch through The Gorey May Bush Féile Facebook page or by emailing thegoreymaybush@gmail.com.