Otter spotted catching a fish for breakfast in the Ahare River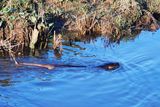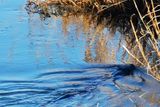 An eagle-eyed wildlife enthusiast was delighted to spot an otter swimming in the Ahare river in Castletown as they were out for a walk early last week.
The male otter was seen by local person Jackie Byrne, who witnessed the otter catch a fish just in time for breakfast.
The photo was shared with the Ahare River and Biodiversity group, who said it was the first otter to be spotted in the river for some time.
Cathy Lee from the biodiversioty group described it as a positive sign for 2022.
"A number of our members believed that otters did swim and hunt at the Ahare river, but the photograph just proves that. We were all delighted to see the otter there," she said.
Otters tend to have territories at a stream or spring, but the point where freshwater enters a sheltered coastline is often a good place to look for signs of otters.
Last month, councillors at the Gorey Kilmuckridge Municipal District were told a draft report on Ahare had been issued to consultants detailing seven options on the Ahare River's future.
Meanwhile, Ms Lee said that there is much hope that the Nature and River Festival, heritage events and the photographic and reflections competition will be able to return this year.