New housecoat designs from Tinahely entrepreneur Aisling have busy parents covered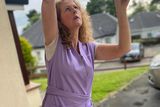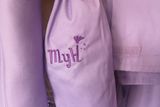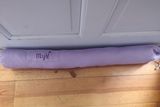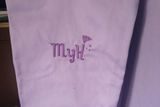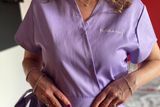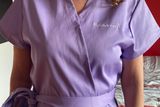 For many parents juggling work life and family life, finding the time to change out of work clothes in the evening is a luxury they simply do not have.
Colouring pencil marks, grass stains and food spillages on clothing become a fact of life. With her latest selection of practical housecoats, founder of MyHousecoat, Aisling Pierce hopes to change this. The Tinahely-based businesswoman hopes to support people in seamlessly transitioning between jobs, allowing them to protect their clothes from the perils of cooking, cleaning, gardening and more.
"I am really trying to attract these younger women who have small children and jobs because that's where I came up with the idea myself. I used to come home from work in a good suit and had to light a fire or make a dinner. I had no time to get changed," she said.
Aisling launched MyHousecoat at the Permanent TSB Ideal Home Show earlier this year. Inspired by the overcoats worn by her parents, she wanted to offer a quick solution to cover everyday clothes while cleaning or gardening. In April, she launched her first three styles: the coat, which is like a shopcoat and has velcro across the front and the sleeves, the wrap, and a sleeveless version of the coat. The products have been extremely popular with people from all walks of life.
"My product range is based on the old tradition or concept of wearing something to keep your clothes clean while you get on with dirty jobs at home and in the garden. I think a lot of Irish people especially can remember our parents, grandparents, minders, shopkeepers etc. wearing these years ago," explained Aisling. "What I wanted to achieve, was to re-design this to bring it into a more modern, fun, functional, fresh, cool product – something that was really useful and practical, but not something you hated putting on!"
Exhibiting her products at various trade shows around the country has given Aisling the opportunity to meet her customers and learn about their wants and needs. In response to their feedback, she has created some new products, which she recently launched at the Gorey Agricultural Show.
The first new item is a crossover apron. Aisling likens this to a modern version of the traditional aprons worn in the past. This comes in a sleeveless and short-sleeved design. Her final new design is the tunic – an idea that came to her following conversations with many beauticians and hairdressers who needed something practical and stylish to protect themselves while working. These come in long and short versions.
With her business, Aisling is determined to produce as little waste as possible and this desire has led her to create some practical side products. Using scraps of leftover material, she has created tubular drawstring bags that can be used for storing basic items.
"I hate waste of any kind. I had some long cylindrical pieces of fabric left over and was trying to find something to do with them. So, I decided to turn them into something I had years ago –drawstring bags," she said. "I put a drawstring at the top so that you can hang them up and velcro at the bottom. You can put plastic bags in it. You could put spare socks in there. It can be used for clothes pegs. A few people have suggested using it to store make-up sponges."
"I am going to run a competition on social media soon asking people for their suggestions on the quirkiest ways to use this product."
With the remainder of the leftover material, Aisling is making doorstops filled with sheep's wool. The idea for this came to her through knowledge gained from SheepWool Insulation in Rathdrum, where she currently works for four days a week while building up her own business.
"I have had this idea in my head for years, and now that my kids are growing up, starting college, I really thought now was the time to take action and do this!"
MyHousecoat products can be purchased online and at various trade shows around the country.