From pipe dreams to reality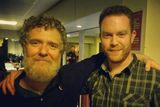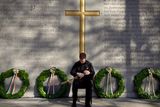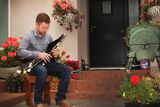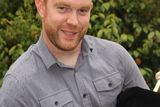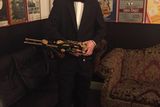 Fintan Lambe
Gorey Guardian
'Oh, and that's me playing the pipes on 'Nationwide'... It's almost an afterthought at the end of a lengthy interview which covers the remarkable musical career of Gorey uilleann piper Mark Redmond who has yet to turn thirty.
The people of Gorey have followed his progress from playing in French's Pub on a Thursday night, to winning gold in the 2003 All Ireland Fleadh, right up to his performances for world leaders on an international stage.
It's as if the 28-year-old has become the go-to-guy for uilleann pipes when the nation needs him. When the fact that his musicianship is heard daily in Irish living rooms, is almost an afterthought, then the list of his achievements must be impressive.
The past year alone has seen Mark playing centre stage at several high profile events, including the 1916 State Ceremony at Arbour Hill which was broadcast live on RTÉ1, with the President and Taoiseach in attendance.
He was on the stage during Jack L's performance in the remarkable RTÉ Centenary concert at the Bord Gáis theatre on Easter Monday. The show, which was broadcast on RTÉ1 met with huge critical acclaim.
In another 1916-related event, he played with Glen Hansard at the National Concert Hall for the Imagining Home Series which was broadcast live on RTÉ Radio 1.
He also played a lament at Arbour Hill for a private ceremony for family members of the 1916 participants.
In May, he went Stateside to perform at the Ireland 100 Commemoration show at the Kennedy Centre in Washington. This concert featured a new composition for solo uilleann pipes and orchestra called Olagón, or 'Wail', and for Mark it was the highlight of his year so far.
'It was about 8 to 10 minutes long and conducted by the world famous pianist, Barry Douglas,' he recalled. 'The piece represents the innocent children of 1916.' In attendance at the performance was the Irish Ambassador to the US, Ann Anderson, and a host of US diplomats.
A trip to Washington might seem like living the high life, but he only got half a day to see the sights, while the other days before the concert were spent practising and in rehearsals.
'You're practising because you're so nervous,' he admitted. 'I was there for three days solid, but it came out so well.'
This performance came about after he was contacted last September by Belfast composer Neil Martin. He was commissioned by Barry Douglas to compose a piece for solo uilleann pipes and orchestra.
'It has always been a particular favourite of mine - uilleann pipes with orchestra, and I had previously performed a work by Neil in the NCH, Dublin in 2011, so I didn't think twice about saying yes to his latest composition,' said Mark.
He said he is generally called upon to play with the RTÉ Concert Orchestra a few times a year when the uilleann pipes are required. 'It's not every day you slap on the tux and sit in front of a conductor,' he smiled. 'I would do it every day if I could.'
He first picked up a set of pipes in the winter of 2000, and thirteen years later, he decided to make it a full-time occupation.
He began his musical career with the tin whistle while in primary school at St Joseph's in Gorey. 'My parents listened to a lot of Irish music and there was this sound I kept hearing,' he explained.
His fifth class teacher John O'Brien brought in a small beginner set of bagpipes, and when Mark got home, he tried to explain to his parents John and Margaret what the instrument was by squeezing a water bottle under his arm and holding the leg of a stool.
'My father realised what it was and he went to look for a set for me,' said Mark. 'You can't go into a music shop and buy a set. You have to contact a pipe maker and he'll put you on a waiting list.'
He started with a beginners' set, and then a half set, and within a few years he progressed to a full set.
'It takes a few years to get to the stage where you are able to play a full set,' he said. 'There's so much going on in a full set. Everything is hand-made, and most pipe makers only do four sets a year. There are very few really good pipe makers out there.'
He began playing with John O'Brien and other trad musicians in French's on Thursday nights around fifteen years ago and continues to do so when he can. There was also an uilleann pipers club in Wexford which he attended for about a year when he started out. After that, he went around the country to different summer schools learning a lot from various teachers.
Combining an almost nomadic lifestyle with a regular job wasn't without its challenges. 'I tried a part-time job in Dublin, but I found I was turning down too much other work,' he said.
The temptation was also there to get a steady income by joining one of the groups that tour the globe with Irish themed shows, but Mark has so far resisted doing too much of this as it limits his availability to take on shows such as 'Centenary.'
'Centenary was one of the better shows,' he said. 'When I got the scores, I thought it would be interesting, but I didn't think it would be so big.'
'During the show, I was backstage in the green room, and the social media manager couldn't believe the positive reaction the show was getting from everyone,' he added.
The performance in the Concert Hall with Glen Hansard was also a memorable evening. 'We all got up on stage at the end and sang "The Auld Triangle" that night,' he said.
Not all his work is on home soil. 'I was in Nice at the time of the attack there,' he said. 'I was there for a show, but understandably, it was cancelled.'
Last October and November he played in South Korea and Australia.
'There are always a few events here and there,' he continued. 'I recently played at a 1916 event in New Ross at the O'Hanrahan Bridge. Yesterday, I recorded a CD with Tara McNeill of Celtic Woman, and I've just got an email about a trip coming up to China, an expo tour with the Minister for Education.'
'A couple of years ago, I did a few months with Riverdance around the UK, but I don't like to go on long tours because something always pops up at home,' he added. 'Summer time is always a bit off. I could be teaching at various festivals and summer schools.'
He also has to find time for the PhD he began in February at the DIT Rathmines College of Music. 'I'm up and down to Dublin a lot in winter, playing and teaching at different events,' he said. 'A lot of touring happens in the winter too, so summer is almost a break from it all. In the winter months you could end up anywhere.'
Last week saw talented young musicians from Wexford and across the country descend on Ennis, Co Clare, for the All Ireland Fleadh. Such events provide a valuable training ground for young musicians like Mark Redmond.
How many of them will bring their talents to the far-flung corners of the world? Perhaps one of them might even get to play the next time 'Nationwide' decides to revamp its them tune.