Campus exhibition has energy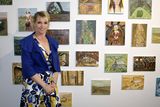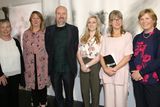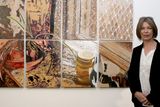 Maria Pepper
Gorey Guardian
Wexford Arts Centre in partnership with the Wexford Campus School of Art and Design (IT Carlow) is presenting the annual BA (Hons) Fine Art Graduate exhibition entitled the Show which will continue until Saturday, June 9.
The exhibition comprises the work of ten dedicated graduates who have explored their own personal practices through an exciting mix of materials, media and subjects.
The result is a well-developed and inquisitive collection which has been influenced by the past experiences, environments and personal stories of the emerging artists.
Included are paintings, sculptures, installations, drawings and videos which provoke curiosity and motivation, questioning the past but concerning themselves with the present and an ambition for change.
The Show touches on themes of social transformation, the dynamics of social expectations and also reveals the development of each artist, personally and professionally.
A selection of creative multimedia, video and demanding installation pieces are juxtaposed with traditional methods of drawing and vibrant oil paintings.
The exhibition introduces concepts found at the heart of our identity and provides a platform to question these concepts.
The work evokes feelings of reminiscence and memory in the viewer along with a reminder of our presence and responsibility in the here and now.
The emerging artists were joined at the official launch by a large group of proud family members and friends who came to admire their work and congratulate them on their success in graduating from the popular course based in the Campus School of Art and Design in the old County Council offices in Hill Street.
The guest speaker was the curator, writer and public art coordinator, Jenny Haughton.
Among the featured artists in the exhibition are Jaqueline White, Jimmy Leonard, Deirdre Travers, Sheena Furlong, Luke Monaghan, Mirona Mara, Hanna Mari-Bates, Anne Doherty, Kevin Martin and Andrew Kingshott.