Local history honoured as old drying drum put pride of place in Gorey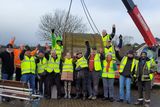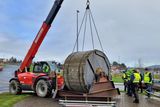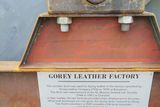 After many years of neglect, an old drying drum from Gorey Leather Factory has been lovingly restored and given pride of place in Gorey town.
The drum was found rotting on waste ground behind Gorey Business Park, the former home of the leather factory, and was restored during lockdown by Gorey Tidy Towns volunteers. It has now been installed next to the Ramstown Road junction.
The foundry operated on the Ramstown Road from 1948 to 1981, and was eventually demolished in 2007. The leather factory was in business from 1936 to 1979, and the closure of both came as a huge blow to the town in already difficult economic times.
The drum was manufactured in the GL Murphy foundry at Clonattin. Gorey Tidy Towns chairperson John Woodbyrne said that the drum represents an important part of the town's heritage as it acknowledges two once significant employers in the town.
He congratulated the three volunteers Oliver Murphy, Billy Halford, and Pat Leacy for their restoration work and thanked Gorey Hire for storing the drum for them in the years since. Sincere thanks were sent to Niall Murphy engineering, Clonattin, for manufacturing the cradle and setting it in place, and to Gorey Kilmuckridge Municipal District for funding and support in bringing the project to fruition.