Late Late Show to feature Ed Sheeran interview days after he had to miss his granny's funeral in Wexford
Interview was filmed earlier this year when the singer was in Dublin performing in the 3Arena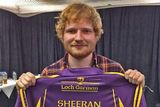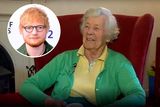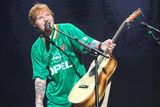 An interview with Ed Sheeran will be screened on the Late Late Show on Friday night.
The singer was forced to miss the funeral of his beloved granny, Nancy Sheeran, in north Wexford on Wednesday as he is currently embroiled in a copyright court case in America where his father John said he was "defending his integrity".
The interview which was filmed when the singer was in Dublin performing at the 3Arena last month.
The interview coincides with the release of his latest album Subtract which is on sale from today.
Sheeran will treat viewers to an in-depth interview and exclusive performances of new music and fan favourites.
In a Late Late Show first, Ryan interviews Ed in the round, surrounded by Irish fans who get the chance to chat with their idol and hear exclusive acoustic performances of Ed's hit singles Perfect and Eyes Closed as well as another track from his new album Subtract.
In the two-part interview, Ed Sheeran speaks candidly about the death of his close friend Jamal Edwards and his tumultuous 2022 when his wife Cherry was diagnosed with cancer. He also discusses the Irish influences on his life and music and has a surprise for Ryan that leaves him speechless.
Ed is currently embroiled in a copyright court case in America where his father John said he was "defending his integrity".
Monaghan's own Caitríona Balfe will be in studio to chat about the enduring success of Outlander, now in its seventh season; why she continues to fight for better working conditions for models despite leaving the industry more than a decade ago; and why she missed the slap that was heard around the world when she attended the Oscars for her hit movie Belfast.
Dublin GAA star Philly McMahon, comedian Rory O'Connor (Rory Stories) and governor of Mountjoy Prison Edward Mullins will be on the show ahead of their appearance on a new series Gaelic in the Joy that is due to kick off on RTÉ One on May 17 where they take a group of prisoners who are participating in a rehabilitation programme and prepare them for a once-in-a-lifetime opportunity to play at Croke Park.
Five models will showcase their magnificent Junk Kouture designs made from actual waste. The winning designs selected by a panel of Junk Kouture judges will compete against fifty other teams from Abu Dhabi, London, Paris, Milan and New York on a global stage to become the second-ever World Designer of the Year!
The 50th anniversary of the Ireland Women's National Team will also be celebrated during the show, and Ryan will speak to former players about the dedication and determination it took to be the first women to represent Ireland at senior women's level.
There will be a debut Late Late Show performance from Rachel Mae Hannon coinciding with the release of her new song The Boys.