Innovations Theatre School to give audiences a new taste of Charlie and the Chocolate Factory at upcoming Gorey show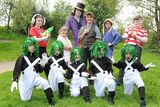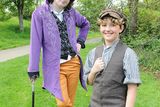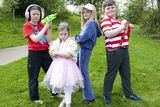 Step into Gorey Little Theatre this May and you will be immediately transported into a colourful world of confectionary as Innovations Theatre Group brings Charlie and the Chocolate Factory to the venue.
Taking place from May 9 to 11, the show organisers are promising a "fully immersive experience" which offers a taste of nostalgia along with a few added ingredients. For show director, Lily Henrich-Doyle, selecting the classic musical for this year's production was a no brainer.
"Any time I had been given small little bits of leeway as a teenager or as a student teacher, I always snuck something Roald Dahl into anything that I did. now that I had the full creative freedom to pick a piece, I knew I was going to be this one," she explained.
I haven't seen anyone else in Wexford doing this show and I think it's something both kids and parents will enjoy."
Visitors to the theatre can expect the magic to commence long before the curtain lifts, with Lily and the team promising a "fully immersive experience".
"With the help of set designer Mark Redmond, who is a miracle worker, we are going to encapsulate that all-round experience. When you step into the theatre, you are going to be stepping into the chocolate factory," she explained. "We're putting so much effort into having it as a fully immersive experience. From the minute you walk in the door to the minute you leave, there will be a lot of hidden things to make it a whole evening experience. You won't just be going to see a show and the show starts when the curtain comes up. The show starts the minute you walk into the door."
Lily has added a few of her own creative twists to the show with the aim of making it as exciting to people of all ages.
"I have added a couple of small bits, nothing too unrecognisable," she said. "Myself and Susan decided we would buy up as many of the script alternatives as we could and I rewrote the show with Innovations and our students in mind. I wanted it to be something that the kids could enjoy putting on but the people in the crowd could also enjoy so I have made it slightly more of a jukebox style musical. Everyone will know at least or two songs and will be encouraged to sing along."
Innovations have seen an extremely positive response to the show so far, with many local groups getting in touch with a view to booking tickets.
"We didn't get as much interest from larger groups last year so it's really encouraging that people are seeing the poster and social media posts and saying 'that could be fun'," said Lily. "It is a story that spans across generations and is very nostalgic. We are looking forward to giving people a new taste of Charlie and the Chocolate Factory."
The upcoming production will be directed by Lily Henrich-Doyle, with choreography from Madison Coleman and musical direction from Chris Currid and Richard O'Toole. Mark Redmond will oversee set and lighting design, while Ronan Dooney is responsible for music production.
The upcoming production will take place from May 9 to May 11. Tickets cost €15 for adults and €12 for children/ OAP/ Unwaged and are available from gr8events.ie.