Gorey Writers' Group tap into memories and methods at workshop with Wexford author Sheila Forsey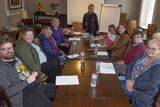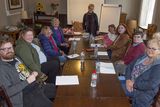 A workshop on memoir writing with local author Sheila Forsey sparked memories and fuelled creativity for members of Gorey Writers' Group.
The workshop, which took place in the Loch Garman Arms, gave the writers an opportunity to take a deep dive into the art of writing their own personal story. Throughout the evening, the award-winning author offered a number of practical tips to help them to polish their craft, such as adopting a daily writing practice and learning to tap into the senses.
"Sheila explained the idea of 'show don't tell' meaning that, instead of saying 'he was angry', you say something like 'he banged his fist on the table'. You have to use description to allow the reader to use their own imagination," explained Carmel Conroy of Gorey Writers' Group.
"We also did a photograph exercise in which we imagined a place or a moment from our past and described the sounds, visuals, taste, smells and touch of the place to create an image."
Sheila Forsey is the author of four novels and her work has reached the Irish Times Best Sellers list. Her latest book 'The Lake House at Lenashee', which is primarily set in Clare in the 1960s, has been described by The Sunday Independent as "a Gothic-style tale with an Irish twist…escapism at its best". Sheila's writing has received numerous acclaimed reviews for giving a visual and textured insight into Ireland's past in the last century. She is also a playwright and a tutor in creative writing.
Gorey Writers' Group will soon take a pause for the summer but they look forward to regrouping in September for a workshop with author Cat Hogan.