Gorey bids farewell to Garry Lombard, a shining star of local theatre
A talented actor, a devoted mentor and a true gentleman, Garry is best known for his work in Gorey Little Theatre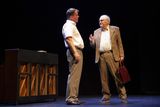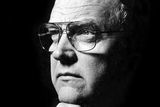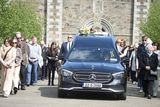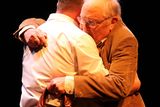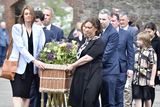 Tributes have been paid to Garry Lombard, a talented actor and hugely influential member of the Gorey drama scene, who passed away on Thursday, May 4 in Gorey District Hospital at the age of 83.
A Gorey native, Garry devoted his life to the theatre as both amateur and professional. He is best known for his work in Gorey Little Theatre, of which he was a founder and director.
Throughout his life, he was involved in over 100 productions, winning All-Ireland awards for productions such as 'The Browning Version', 'A Time of Wolves and Tigers' and 'Goodbye Daddy'. Last year, Garry continue to impress audiences when he took to the stage with his son Garrett for a poignant performance of 'Tuesdays with Morrie'. While he took on more roles than can be counted in his lifetime, one of Garry's proudest moments was when he took on the role of the Bull McCabe in John B Keane's 'The Field' – a performance for which he won an all-Ireland award.
Garry wore a number of hats in the drama community. He served as director of the South Leinster Drama Festival and on the executive of the Amateur Drama Council of Ireland. He was also an associate of the Leinster School of Music and Drama and a member of the Association of Drama Adjudicators.
While drama was his one true passion, Garry was equally as committed to his career in law. Garry qualified as a solicitor in the early 1960s and achieved first place in Ireland in his law degree. He practiced as a solicitor in Gorey for almost 50 years, taking over his late father's practice. It was during his time studying law in university that Garry first became involved in amateur dramatics, dividing his talents between local groups and UCD's DramSoc.
Garry met his wife Veronica on a production of Tomas McAnna's play about Killkea Castle. The pair went on to have six children – Aoife, Garrett, Rionagh, Tomás, Ross and the late baby Niamh.
Recalling Garry's impact on the community and within his own family, his son Garrett described a man who was kind, patient and generous with his time and knowledge.
"Dad believed that the legal system should be a service to the community and should never be used for personal gain," he said. "His heart was in the theatre. He loved the theatre, he loved the possibility of it. He was a great mentor to many young writers actors and directors."
"Dad wanted what was best for Gorey. He was determined to have a theatre in the town and was instrumental in achieving that. He was determined to put Gorey on the map."
Garrett noted his father's many other contributions around the community, including as trustee of Gorey Tennis Club, captain at Gorey Rugby Club and even in the role of Santa Claus for many Christmas festivals in Gorey.
"Out of all his activities, his greatest love was for his family and friends and no one more so than his wife Veronica. His love for her grew stronger every day," he said. "He was a wonderful father and granddad. He was patient, kind and generous with his time and knowledge."
The Lombard family wish to give special thanks to all of the amazing staff at Gorey District Hospital for their incredible work in caring for Garry and everyone who offered condolences since his death, added Garrett.
Since his death on Wednesday, there has been an outpouring of tributes for Garry, with many recalling the huge contributions he made to theatre in Wexford and indeed, Ireland as a whole.
In a moving statement, Gorey Little Theatre highlighted their heartbreak at the death of one of their founding members.
"We are truly heartbroken at the passing of our beloved Garry Lombard. Garry was a founding member of Gorey Little Theatre. He was one of the finest actors Wexford has ever had. His passion for theatre was immense and his support and guidance over the years has been incredible. A wonderful mentor to all and especially younger actors starting out. He had a great wit and sense of humour and the best of company. A wonderful friend, a true gentleman of a very special kind. A beautiful life to be celebrated. Our thoughts are with Veronica, Aoife, Garrett, Rionagh, Ross and Tomás, his gorgeous grandchildren, extended family and friends."
In addition to being a hugely influential figure in the drama community, Garry was heavily involved in Gorey Tennis Club. He served as one of the founding members and remained committed to the club throughout his life.
Commenting on behalf of Gorey Tennis Club, Carmel Roice explained that Garry had been part of Gorey Tennis Club since its foundation in 1968.
"Garry along with the late Dr John Nixon and late Mr John French were the first Trustees of the Club and up to his recent passing, Garry still remained a very valued Trustee of Gorey Tennis Club.
The Club records show that in 1968, Garry, a founding member presented to the Committee a Draft Copy of the Club's Constitution and 'much to his relief the young Solicitor's Constitution was approved by Club Committee'. Besides his legal skills, Garry thoroughly enjoyed his tennis, with members like the late George Willoughby, late David Cullinane, and Jimmy Mc Donald to name but a few. The Club holds photographic evidence of Garry as the Men's Singles Handicap Runner Up in September 1977.
Garry as Trustee was very loyal to the Club and was always, without fail, available to the many Committees over the years who sought advice and encouragement from him. He had a keen interest in the development of the Club and was delighted on September 9, 2018 to officially 'open' the refurbished Courts at Esmonde Street. He had a busy schedule that month, as he returned the following week to present all the Club prizes at the Club Championships. Each prize winner was warmly congratulated and encouraged to continue enjoying tennis by him.
Gorey Tennis Club has lost a very long servicing member and friend and the Club's sympathies go to his entire family at this sad time. May he rest in peace."
Senator Malcolm Byrne, who shared the stage with Garry numerous times, recalled many of the contributions that Garry made to the community.
"Garry was a wonderful man and he was always willing to share his time and talent with others, particularly with young people. He was always encouraging young people to get involved in theatre and the arts. He was very proud of his family and all of his family were involved in theatre. He always spoke with pride about their success," he said.
"Garry loved Gorey and he loved theatre. He was both a very easy person with whom to work but you also learned so much just by watching him.
He was very witty as well. He had a great sense of humour and had a great interest in the world. I extend my sympathies to his wife Veronica and to his family. His death comes as a big loss to the world of amateur theatre in north Wexford."
Many of those who have shared the stage with him have described Garry as one of life's true gentlemen, including Councillor Diarmuid Devereux, who recalled his selfless and giving nature.
"We have known him all our lives in Gorey and when people described him as a gentleman, that is so true. He was one of the nicest people you could ever meet. He was super talented and was not afraid to share his talent with people in Gorey. He will be remembered for a long time to come."
Garry was the beloved husband of Veronica and loving father of Aoife, Garrett, Rionagh, Tomás, Ross and the late baby Niamh. He was brother of Marian, Tommy, Johnny, Maeve and the late Brian. He will be deeply missed by his wife, sons, daughters, sisters, brothers, grandchildren Geroid, Realtín, Phoebe, Grace, Niamh, Donal and Cuan-Garry., son-in-law P.J., brothers-in-law Tommy, Freddie, Peter and the late Ronnie, sisters-in-law Margie, Frances, Angela, Rena and Bernadette, extended family, relatives, and friends.
Garry's funeral took place on Saturday, May 6 at St. Michael's Church, Gorey, followed by Burial in St. Michael's Cemetery. A huge crowd from Wexford and beyond came out to pay their tributes to him and remember all of the contributions he made throughout his life.