Families unite to protest at 12-week closure of St Aidan's respite services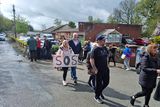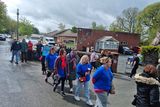 Families affected by the 12-week closure of the respite services at Saint Aidan's Services have spoken of the immense stress caused by the sudden removal of the vital service, describing it as an experience "worse than the death of a loved one".
A three-person committee comprising parents of those who use the service has been established under the name 'Parents Unite for Respite' in direct response to the closure announcement. This committee, which the group says was formed "out of pure necessity and despair", has the sole objective of reopening the respite service.
Last week, Saint Aidan's announced that it will close its respite services at Mulcahy House for a twelve-week period, citing staffing challenges as a reason behind the closure.
In a letter to families and individuals supported by the service dated April 28, Assistant Chief CEO, James Traynor said that, following an assessment of the scale of their staffing challenges, they have decided to close the respite services for twelve weeks from Monday, May 1. According to the statement, the service is experiencing the "full impact of the recruitment and retention issues being faced by all organisations".
"We had hoped that a return to how we would normally operate in Mulcahy House was sustainable from January 1, 2023 when we reopened but, due to staffing vacancies across the service and in Mulcahy House itself, we cannot work to the standard we are used to, nor provide the level of service. These recruitment challenges have potential to put the individuals we support at a greater risk than we are able to mitigate at this present time, and we have the responsibility to operate a safe and effective service, this has always been our primary concern," continued the statement.
We know this decision will put greater pressure on families, and adults and children that we support, but we cannot continue as we would like to. We understand that respite is vital to those supported.
"We deeply regret that we have not been in a position to respond to requests for specific dates for respite, however, this is a direct result of the staffing shortages we are dealing with.
We aim to work to a plan that will make our respite service more sustainable in the longer term, and we will review how we currently provide respite during this period of closure. We have advised the local HSE Disability Manager of the closure.
We are deeply sorry to be making this regretful decision and want to assure you that we will work diligently to return to service provision."
While this letter informing of the May 1 closure was dated April 28, Secretary of Parents Unite for Respite, Darren McGovern said that it was not received by parents of the service users until Wednesday, May 3. On Tuesday, May 8, he said he is aware of two families who have yet to receive it.
"We the parents received absolutely no prior notice of closure. We are of the belief that this was a deliberate and cold-hearted decision by The Management of St. Aidan's," he said.
Many of the parents of the service users organised a protest outside the facility on Friday morning calling for the closure decision to be reversed.
While the parents were contacted by a representative of Saint Aidan's with a view to arranging a meeting, the group was keen to first form the committee before opening the line of communication. An email with a series of questions from the group was sent to Saint Aidan's on Monday evening, before being published on the Parents Unite for Respite Facebook page.
"After our protest, St Aidan's issued a statement on the 5/5/23. We as parents believe that this statement should of been issued to parents weeks previously so we may have worked as part of a team with the management of St Aidan's to save our service from closing," said Darren.
The respite service at Mulcahy House is the only respite service available to the people of Gorey and surrounding areas. Its closure has added "an untold amount of stress and pressure onto parents already at breaking point" explained Darren.
"To the average citizens of the country, the first emergency service is considered to be 999. To the loved ones of people with special needs, our first emergency service is Mulcahy House Respite."
"The cold reality of life in today's Ireland is that the parents and care givers of loved ones with special needs do and have committed suicide due to the pressure brought to bear on them. Pressure, I may add, that is not due to living with people with special needs but pressure brought to bear on them by the total lack of service, by the total lack of understanding by those in power and by the total lack of respect and dignity shown for the care we as parents and caregivers provide.
The mammoth organisation that is HSE would collapse to the ground if it were not for the parents and caregivers of this country who are its very foundation.
This vital work is being carried out 24 hours a day, seven days a week for a measly €280 carer allowance. No one in the country, let alone the government, would work under these conditions. The people – and by that I mean the management of these organisations who are entrusted to provide care – should hang their heads in shame."
Darren went on to say that the removal of the vital service is for the families "worse than the grief suffered at the death of a loved one".
"We are now prisoners in our own homes," he added.
"The reality of this closure of Mulcahy House in real terms means we as parents have zero assistance if we take sick, if we have a family emergency. This feeling of discombobulation is very real and adding untold amount of stress and pressure onto parents already at breaking point.
The reality of mental breakdown or worse over what the management of St. Aidan's have done to us as parents and caregivers should not be taken lightly. I do hope that nothing happens to our parents or carers during this distressing time. This closure is not acceptable and we Parents Unite for Respite are begging and pleading with the management of St. Aidan's to reverse this decision and reopen Mulcahy house immediately."
On Monday, Saint Aidan's Day Care Centre issued a statement on behalf of CEO Eimear Mannion to address some of the matters that have emerged since last week's announcement.
In the statement, they said: "after March, due to staffing challenges, Respite dates were allocated until the end of April only. No respite was allocated to families after 30th April 2023. The announcement to close Respite had immediate effect, however, no family had respite cancelled due to the recent announcement. We do acknowledge that the announcement was sudden, however, we were in regular contact with families requesting respite in the first two weeks of May, advising of our challenges and our inability to confirm service. All families requesting Respite in May were advised of the closure in advance of receiving the formal notification letter."
This point has been disputed by Parents Unite for Respite, who said that some of the parents had requested dates in May prior to the closure announcement, while they are aware of one family that had dates booked and confirmed for June. They reiterated that the parents had received "absolutely no prior notice of closure".
The Saint Aidan's statement also addressed the staffing issues cited as the reason behind the sudden closure, saying that their vacancy levels increased during the pandemic, and again during the early part of this year.
"By mid-April despite our best efforts, our vacancy levels had increased to a level that impacted on our ability to operate safely. Management reviewed the situation, and with sixteen vacancies across the organisation, triple the normal level, and Covid outbreaks causing higher than normal absence, the regrettable decision was taken to reduce services by temporarily closing respite. Saint Aidan's are one of a number of disability organisations that has recently taken this regrettable decision, the second in County Wexford," it read.
The statement went on to say that the organisation had increased its recruitment efforts "significantly" and that they are seeing the benefits of this.
"However, due to the impact of notice periods, and the stringent checks and garda vetting which must be undertaken to work in disability services, it takes up to three months to fill any vacancy. Some of our vacancies have been open for six months or more, which is common across the entire disability and health sector. It is of little comfort to know that the challenges we are facing are no different from other similar organisations. We are working hard to resolve our staffing challenges and restore the Respite Services as soon as we possibly can."
The Parents Unite for Respite committee have drawn attention to a planning application made by Saint Aidan's in March "for a change of use of part of existing residential care building to a preschool childcare facility for children with special needs" at Mulcahy House. This application has been granted with conditions.
"Surely, from a care perspective it would make more sense to extend Mulcahy house Respite Services to include the vacant two-bed apartment and try to offer much needed help and assistance to the most vulnerable of our society and reduce the numbers on the waiting list for Respite offered by St. Aidan's, a service may I add that has been built by the people of Gorey and its environs over multiple decades," said Darren.
Addressing this, Saint Aidan's said that they wish to "stress and confirm that there is no truth in the speculation that we wish to close our Respite service".
"We will re-open Respite as soon as we are in a position to do so. Since late 2021, we have been planning to relocate our Pre-School to an empty apartment at the back of the Respite house, which has not been used for several years and which is not part of our Respite service. Planning approval was recently granted for this, and it will be in an entirely separate and unrelated part of the building. We wish to stress and confirm that the necessary pre-school service will have no impact on level of Respite service offered."
Saint Aidan's said that their recruitment issues are fuelled by the fact that they are a 'Section 39' agency, and "funding is not provided to such agencies to have pay scales in line with the rest of the health sector".
"Funding needs to be provided immediately to put staff in Section 39 agencies on health sector pay rates, something we have been advocating for over the past several years. Underfunding is a chronic issue for our sector, something which must be addressed at national level, or services like ours will continue to have staffing and service provision difficulties."
In their statement, Saint Aidan's said that the invitation to meet with those who organised the protest is still open.
"We advise that families contact us directly with their concerns and we will respond and assist as best we can," they added.
"Please know that we are doing, and will continue to do, all that we can to re-open Respite as quickly as possible. Any family needing extra assistance as a result of the closure, should contact the Respite Manager, who shall advise the HSE."
Councillor Fionntán Ó Súilleabháin said he has been contacted by a number of concerned parents in the community whose children avail of the respite service.
"It is deeply regrettable to have no respite services in north Wexford for at least the next three months.
"Concerned parents have contacted me, and there are 80 people in the county who have use of this valued facility, which helps to alleviate some of the stress in families' lives, even if just for a brief period," he said. "The issue of recruitment and retention of staff is evident in day and overnight respite services across County Wexford. Questions must be asked about why this is the case.
"There is a reason people are not going into this sector, and there is a reason they are leaving in their droves, and we need to get to grips with those issues and tackle them head on.
The Councillor went on to say that the large turnout for the protest "shows the depth of feeling and the emotional attachment that the people of North Wexford have for St.Aidan's Services and the great work that the centre and its staff for our most vulnerable".
"The Government must address the core problem that is leading to staffing crises in these areas, as a matter of urgency," he continued.
"The incredible work being done by these families is not being valued by our government. It's simply not good enough that the most vulnerable people in our society, and their families seem like an afterthought to this government, and are being left behind."
Councillor Diarmuid Devereux – who is a former Chairman and current board member of Saint Aidan's Services – said that he and his fellow councillors share the concerns expressed by families.
"The first thing I would say is we as elected members share the concerns that the parents have and we also share our respect for the efforts that the management in Saint Aidan's are making to correct it. Every service provider of a similar nature is suffering from the same problem – we can't get staff. The Saint Aidan's provider is struggling to get staff and therein lies the core of the problem," he said.
Cllr Devereux said that staffing challenges are a reality, not just for the care sector, but for a variety of sectors around Wexford and indeed, nationwide.
"I assume affordability and availability of housing is probably a key element and it is starting to have a knock-on effect. Until this is resolved, this issue is going to persist," he said.
While Cllr Devereux said that the team at Saint Aidan's were doing all in their power to address the situation, he said that the government need to do more to address the root of the problem.
"This is a problem now for the government and it is not a problem for Saint Aidan's. The government has to step up and do something. They are pontificating but this is the raw reality of the situation in Gorey. We have seen no reasonable effort to providing affordable housing for working professionals and until we have, we won't be able to attract people to come and live and work here," he said.
"The reality is, the prices and interest rate increases are all mitigating against people who want to come to Gorey to get to work.
I share the concerns of families and I can understand why they might feel protesting is the right way forward. However, we need to focus our protests on the minister and the government because this problem is only going to be solved by tackling the root causes."
Saint Aidan's did not wish to provide further comments following the issuing of their statement on Monday.