Courtown Hibs players team up to show support for Gorey woman Carol Moran at charity head shave event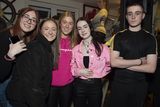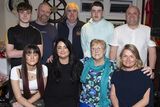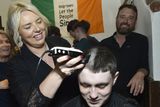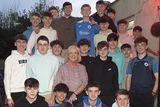 Players on the Courtown Hibs U18 team demonstrated the power of teamwork when they joined together to show their support and solidarity for the Moran family.
The team members joined with fellow club members and people from across the Wexford community for a head shave and waxing fundraiser in support of local woman, Carol Moran.
In February 2023, the Moran family was thrown into turmoil when Carol suffered a horrendous medical emergency and since then, Carol has been receiving treatment in Beaumont Hospital.
Considering the strong connection that the Morans have to Courtown Hibs – with Carol's husband Carl serving as a coach and their sons Finn and Killian playing for the club – the club and committee were keen to do all they could to support them during this difficult time and so, the idea for a charity head shave and leg wax was born.
The fundraiser in Jimmyz Bar proved to be a huge success, with over €20,000 raised on the night, a total that far surpassed their initial €2,500 target. All of the money raised will go towards Carol's rehabilitation and recovery.
At the recent event, players on the Courtown Hibs U18 team parted ways with their hair in a charity shave, while other members of the club and committee representatives had their legs and chests waxed at the event. This included Chairperson Keith Power, who had his chest and armpits waxed for the good cause.
"Everything went really well and we received a huge amount of support," he said. "We raised in excess of over €20,000. We had a very generous offer from our neighbours Gorey Rangers who donated the proceeds of their gate charge at their Sunday match to our fundraiser."
The event was the brainchild of players on the U18 team – Tommy Hernandez, Paddy Blood and Evan Roche – a team that Carl has managed for ten years. Carl's best friend Ciaran Stafford also played a strong role in the event's success, setting up the GoFundMe page and driving the fundraiser forward.