Askamore woman Aoife Butler to honour her brother's memory as the 2023 Sydney Rose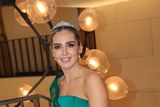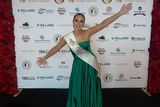 Askamore native Aoife Butler will honour her late brother and share an important message when she steps into the spotlight as this year's Sydney Rose at the Rose of Tralee International Festival 2023.
A resident of Sydney for the last four years, the 28-year-old Mental Health Clinical Nurse Educator has a long-held dream of taking part in the event. However, the death of her brother Matthew coupled with a return to university to pursue a Masters prompted her to take the leap.
"When we were all growing up, the Rose of Tralee was something we watched and thought about doing. Over the last few years, Aoife always mentioned it but it was never the right time," explained Aoife's proud sister Michelle.
"This year, she felt it was the time to do it. Our brother passed away in Australia and that was a lot of what inspired her. Because of that, she became very involved in mental health and wanted to get out her message out there and she thought, why not do that through Rose of Tralee."
Aoife, who is a former student of Coláiste Bhríde Carnew, moved to Australia nearly four years ago to travel and follow her late brother Matthew's dreams. Matthew lived in Sydney for three-and-a-half years before he passed away in 2016 at the age of 25.
Aoife is very passionate about mental health and living up to honouring her brothers memory. She studied a Bachelor of Science (Hons) in Mental Health Nursing in Ireland and is now currently studying her Masters of Mental Health at University of Newcastle, while also working full-time at St Vincent's Hospital Sydney.
"This is much more than the Rose of Tralee for Aoife. It signifies so much for her and gives her a chance to get her message out there," explained Michelle.
"We didn't have a traditional family as such. Aoife wants to show people you don't have to be from the perfect situation to be successful and happy and to do these kinds of things. She has experienced challenges that aren't typical to most, and lost a brother at such a young age. For her to come out the other side and push herself forward to do her masters and become a rose is incredible.
She hopes to be able to be a positive role model to young women and encourage them to follow their dreams, despite the challenges they may face in life."
With Aoife due home in June, her friends, family and local community are gearing up to give her a warm welcome back to Wexford before she takes on the competition.
"The community have been so supportive," said Michelle. "We are all so immensely proud of her."