All roads lead to Ballycanew for the Gorey Agricultural Show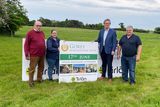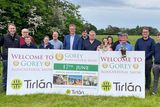 All roads will lead to Ballycanew on Saturday, June 17 as the highly-anticipated Gorey Show returns for another year.
Following last week's successful launch by the committee and Chairman of Tirlán and Main Sponsor of Gorey Agricultural Show 2023, John Murphy, the team are now hard at work finalising the plans for the upcoming event.
The show will have lots of new attractions and classes this year including the inaugural scarecrow competition, which organisers hope will attract lots of entries and add field art to the site. Pygmy Goat classes are new also for 2023.
The theme of this year's show is sustainability and the organisers are hoping to have some new and exciting ideas on display. In the Trade Stand Field, they will have amusements, vintage, indoor craft and a competition marquee, along with a pets corner and poultry tent. Visitors can also find food stands, the indoor exhibition stand and machinery stands.
Gorey Agricultural Show organisers are hoping for a good display of cattle this year, with ADP Slaney sponsoring the Hereford section. There will also be Parthenaise, Friesan, Commercial and Simmental.
The Island Pony Club will be out in force with Pony Games and weather permitting show jumping. This is always a very busy area of the show and a great spectacle. The horse and pony section will have an array of classes, ranging from local lead rein to side saddle, while they will also have horse and pony working hunter classes as usual. The race horse to riding class is especially for retired race horses who have found new careers.
Applications are now being taken online for competitions and trade stands. Children's classes are all free to enter, and cater for pre-school to secondary school age groups.
Gorey Agricultural Show would not run without the support and cooperation of the landowners, the Hardy Family, and the committee has expressed their huge gratitude to them for the use of their land.
The committee of Gorey Agricultural Show would love to see everyone at Ashton, Ballycanew on June 17 to enjoy a family-orientated fun day out. See www.goreyagriculturalshow.com for more information.