11-tonne whale washes up dead on Carnsore Beach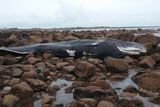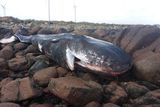 David Tucker
Gorey Guardian
An 11-tonne whale has been found dead washed up on a rocky beach at Carnsore.
Davie Rea, from Our Lady's Island, said the dead whale appeared to be in reasonable condition apart from the battering it had taken coming in over the rocks.
'I couldn't believe it when I saw it,' said Davie, who daily walks the shoreline between Nethertown and Carnsore Point.
Kevin MacCormick, from the Irish Whale and Dolphin Group, said the dead whale was a sperm whale that weighed around 11 tonnes.
'It's an 8.5m female, probably fully grown, but very emaciated so most likely it was not in good health,' said Kevin.
'We dont have that many strandings for that species on our coast but are more prevalent on the west coast. We had a stranding circa five years ago in Dungarvan,' he said.
Last September, a group of Wexford men saved a pilot whale that had beached at Ballyteige Burrow near the Cull Bank in the south of the county.
Neil Bates, from Newtown, Kilmore, who found the whale at Ballyteige, identified the species as a young, female long-finned pilot whale.
Naturalist Jim Hurley, an Irish Whale and Dolphin Group contact person for strandings and sightings on the South Wexford coast, said he would welcome reports of any sighting or stranding of whales or dolphins on (086) 1637199.
Pictures courtesy of Davie Rea and Kevin MacCormick.