Wexford schools excel at Young Social Innovators awards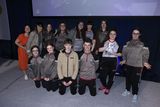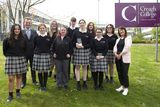 Brendan Keane
Enniscorthy Guardian
TEAMS representing two County Wexford schools were among the winners at this year's annual Young Social Innovators awards, which is an initiative aimed at celebrating excellence in youth-led social innovation.
The team representing Meánscoil Gharman, in Enniscorthy, won the YSI Social Media award for their project titled 'Manni Unmasks Masculinity'.
The aim of their project was to encourage men to show their emotions and to show them that's its perfectly ok and important to do so.
The team was composed of: Oisin Ó Ciardubháin, Clarisse Ní Choncubhair, Georgia Mic Liam, Sadbh Bonnington, Sadhbh Darcy, Niamh Armstrong, Ciara Ní Dhúill, Adam O Cinnéide, Will Mac Réamoinn, Ellie De Faoite, Ellie Ní Mhurchú, Amy Ní Bhriain, Dylan Cearnaigh, Ann Molloy, Pollyanna Clavin, Eoin O Rímheá and Orán Cuillín
Meanwhile, a team representing Creagh College, in Gorey, won the YSI Fun-Raising award for a project titled ''Fash-Back'.
The team's aim through the project was to undertake innovative fundraising initiatives to combat the problems associated with fast fashion. Through the project the students involved raised €1,000 for the St Vincent de Paul charity.
However, in addition to fundraising the students involved in the project also hope to raise awareness around a social issue of the damage inflicted on the planet by the fashion industry. The team held several fundraising events throughout the year to promote their message including a Hallowe'en fancy dress event for which they encouraged students to make, create or swap outfits and a pop-up clothes shop that encouraged students to donate pre-loved clothes so they could be exchanged and given a new lease of life.
The team from Creagh was composed of: Hannah Conway, Felicia Cojan, Erin Cuningham, Stephen Dixon, Preston Doyle, Eva Doran Una Fae Flavin, Ava Kenny, Niamh Kennedy, Ceri Maguire, Lucija Mirosavljevic, Kym McBride, Teegan Murphy, Leah Molloy, Ceri Maguire and Fiadh O' Connor. They acknowledged the support and help from their teacher, Ms Nicola Travers, Transition Year coordinator, Ms Bridget O'Connor and Principal, Paul Glynn.
Both Wexford schools were delighted with their results and proud of their respective students' achievements.
The teams from both schools travelled to Croke Park to take part in the national finals which took place live, in-person for the first time since 2019.
Now in its 22nd year, the awards ceremony was hosted co-presented by broadcaster Zara King, and former Hometown boyband member, Dayl Cronin. Around 600 young people from secondary schools throughout Ireland were in attendance at the final.
There was a very positive vibe at the ceremony with plenty of entertainment on-site including an Open Mic zone, a circus skills workshop, photo-booth and a 'Big Brother' style diary room.
Commenting at the awards ceremony, the CEO of YSI, Roger Warnock, said: "More than 5,000 young people from all over Ireland got involved in social innovation projects with Young Social Innovators in 2023. Today's event is the culmination of all of their innovative efforts to bring about inspiring change in their local communities, the length and breadth of Ireland."
"It was fantastic to be able to gather together in-person to celebrate at this year's awards finals and I would like to congratulate the winning teams, including those from Wexford," he said.
"I was blown away by these young people's ideas, bravery and creativity," he said.
"Their projects are proof that change is possible and that young people have the power to make a difference," he added.
Mr Warnock also acknowledged the "fantastic teachers and the YSI guides"
"I'd also like to thank their fantastic teachers and YSI Guides who have supported them all the way along their YSI journeys and who are central to the delivery of YSI programmes. They make a powerful and positive impact on the lives of the young people they work with and the wider YSI community. We were also delighted to welcome our partners, our judges, and our guests, who no doubt were as excited as I was by the incredible initiatives on display."
He said "the emerging young change-makers" presented inspiring, high-impact social innovation projects for bringing about positive change in their communities. He also noted the areas the students focused attention on including climate change, isolation, consent, inclusion, health promotion, and our modern-day relationship with technology.