Wexford Minister James Browne travels to Cyprus, Jordan and Beirut in overseas trip with a difference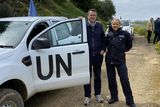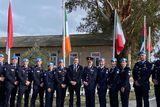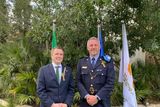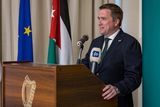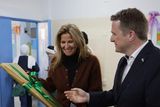 Pádraig Byrne
Wexford People
Wexford TD James Browne had a busy itinerary around St Patrick's Day this year as he visited Cyprus, Jordan and the Lebanon in his role as Minister of State at the Department of Justice.
In Cyprus, Minister Browne joined with Garda Commissioner Drew Harris in meeting with members of An Garda Síochána who were marking 30 years of peacekeeping missions there. Since 1993, 452 gardaí have contributed to UN peacekeeping missions in Cyprus as part of the United Nations Police.
"It was an honour to meet with gardaí in Cyprus to mark 30 years of the mission there," Minister Browne said. "Thankfully, the situation has been relatively peaceful in the buffer zone between North and South Cyprus in recent times, but that's always liable to blow up at any point."
This is something which Commissioner Harris noted, stating that garda personnel were only recently involved in the detonation of a mortar in the buffer zone.
Minister Browne also noted that six gardaí had been lost while on the peacekeeping mission and they were remembered on the day as medals were handed out and speeches heard.
Among those who Minister Browne was particularly pleased to meet was fellow Wexford man Garda Waters from New Ross.
A visit to Jordan was also on the agenda for Minister Browne, where he even met with Prince Faisal. He noted that trade has doubled with Jordan in the past five years and discussed the prospect of a direct flight to the country from Dublin in the near future.
While there, Minister Browne also met with Palestinian and Syrian refugees.
"There are a large number of Palestinian and Syrian refugees in Jordan and it puts a massive pressure on the country," he said. "These people would come from a similar ethnic background, but Jordan is not a wealthy country. They don't have the oil money that others do. A lot of aid work is going on through the Irish embassy to try and help the situation.
"By being there it also opened the door to future trade between Ireland and Jordan."
Finally, being the closest available Minister, Minister Browne was asked to take a detour to Lebanon on his way home to visit Beirut.
"There's set to be a substantial investment from the Dublin Airport Authority in a terminal in Beirut," he explained. "While there, I met with Defence forces personnel based there. Lebanon is a country facing serious economic and political turmoil. The economy is collapsing there.
"They are lovely people and it's a beautiful city, but you can see major challenges everywhere you go there. This potential investment is the best thing we can do to help."