Wexford historian annoyed at being left out of 1798 commemorations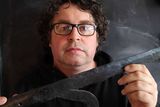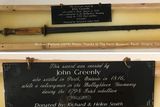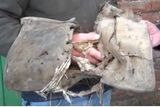 Brendan Keane
Enniscorthy Guardian
ONE of the country's foremost authorities on history and heritage has admitted to being "pi**ed off" and disappointed at the fact he was omitted from being involved in the forthcoming programme of events commemorating the 225th anniversary of the 1798 Rebellion.
Michael Fortune, who is very well known for his ongoing promotion of history and heritage and for his highly regarded website www.folklore.ie, admitted to being initially "p**sed off" at being left out of one of the most important commemorative events taking place in County Wexford this year.
He also admitted to such emotions in an online post placed on his social media page, however, when speaking to the Enniscothy Guardian he said his anger and frustration was borne more from concern that the forthcoming 1798 Summer School initiative and commemorative events could be a missed opportunity.
Michael said he's not disappointed with the speakers lined up to participate in the commemoration events but more so in how he was omitted from any involvement despite the fact he would have been willing to contribute for nothing.
Known as a straight-talker and as a person who is down-to-earth and very accommodating, in his online post he said: "All my life, I was never afraid of calling something out when it was wrong and when it needed to be said. It's in me and that's what makes me, good or bad. If you come from a particular background - you are left with no other option to have your voice heard."
"I have to say I am very disappointed in the official 1798 Summer School programme that has been organised," he said in his post.
Michael works as an Associate Lecturer with LIT and has presented at academic conferences all over Ireland in addition to being a visiting lecturer in the area of folklore, vernacular culture and local history.
He received correspondence from the local authority's heritage office outlining the academic approach of the 1798 Summer School but told the Enniscorthy Guardian: "The argument of not fitting that brief doesn't really cut it in my opinion."
He also said that other than that he hadn't received any correspondence from the organisers of the forthcoming events "at any stage" and said: "To get acknowledged for the work you do in your own county wouldn't have been much of a call."
Michael pointed out that in 2016 he was involved in organising three of the main events in Wexford for the 1916 centenary and said: "The county librarian at the time understood our practice and what we could bring creatively to the table".
"I have presented in that academic/library context more that most of the selected speakers to be honest," he said.
"I have been working with the National Library of Ireland and also the National Museum on projects since 2009," he added.
Michael has also presented papers in The National Folklore Department in UCC, and in the Irish Departments in UL and NUIG over the years, while with Folklore and History Departments in the USA and Canada.
"I'm currently working with MA Folklore students from the States as part of the Learn International Programme," said Michael..
Expressing pride in being from County Wexford and highlighting the fact he had a relation killed at the Battle of Oulart Hill, he said he was disappointed in how the forthcoming programme was formed.
Michael posted an online statement in which he admitted to being "p***ed off", however when speaking to the Enniscorthy Guardian he said his post was borne more out of frustration and disappointment.
He said the story of 1798 is something that is very real for him and means a lot to him – as it does to many people around the county.
"The '98 story for the likes of me and many more like me, won't go away and will always be a part of who we are," said Michael.
"We are the ones who will give days and days of voluntary time researching and recording these stories and we are the ones out filming and collecting content on cold and wet days in the years to come, when the monies and limelight has run out," he added.
Michael said his disappointment was borne out of his enquiries about getting involved coming to nothing.
"I have received messages of support," said Michael, in the wake of his online post.
He was also very keen to highlight that he is absolutely in favour of the 225th anniversary of 1798 being commemorated but it disappointed that his archive of "incredible material" relating to that period in Irish history could have been utilised.
Emphasising that point, he spoke of a yeoman's saddle that was uncovered and within the last two years he had two original 1798 pikes in his hand. While he himself highlighted those events through his own social media channels along with numerous other events related to 1798, over many years, he said if he had been asked to contribute to the forthcoming Summer School event it's the treasure throve of videos, information and photographs he has access to that would have been of great benefit for the initiative.
As he was keen to point out it's not so much about him not being involved in himself but more the amount of information and items that could have been brought to the public, through him, if he was involved.
"There is an audio recording, discovered about 50 years ago, which involves a woman who brings us back and the value of the home video archives from 1998 is immeasurable," he said.
"I have access to a full archive of every march that took place in Wexford in 1998 and that's over 25 years ago," he added.
"The value that has for the families and communities, seeing people marching, some of whom have passed away, is incredible."
Michael said he does what he does because of a love of history and heritage. He is also very appreciative of the support he has received from Wexford County Council through the years for different projects he was involved in.
"Any support we get from the council is very much appreciated and we apply for projects and you get some of them and you get a few bob for doing them, and that's your bread and butter for the year," he said.
"They are all through open calls and I am completely supportive of the Arts Department and that process," he added.
With regard to his online post Michael admitted that it came across as very angry but said that in hindsight it was just out of frustration.
He also pointed out that there are other people around the county who could have also contributed enormously to the Summer School event if they had been invited to do so.
"I'm all for the event itself because 1798 is something that needs to be remembered and commemorated but I just think this could have been so much more and is a lost opportunity," said Michael.
Highlighting just one example of the material he has access to he spoke of the discovery of a yeoman's saddle.
"There was a woman who was recorded in 1972, and her name was Julie Murphy, a single woman from Knockadawk in Ballgarrett," he said.
"She was recorded by a man from Kerry and the audio turned up and in it she describes the Battle of Oulart Hill, the morning of it, and it's incredible because she the impression she gives, she walks you through the fields," he added.
He went on to outline what the woman said on the recording: "She talks about her great-grandfather who was transported to Australia, but in one of the cases she mentions that before the Battle of Oulart Hill there was a fight between pikemen and yeomen one pikeman pegged a saddle and hit the back of it."
Michael said he asked some of his neighbours, who are Church of Ireland and close friends, if there was any truth in the story.
"He got back to me and said 'there's not only truth in it but we have the saddle out in the shed'," said Michael.
"The man passed away since and it's things like that could have been used," he added.
"I think there is a real missed opportunity to have the video recordings involved and it's frustrating to think there is a massive archive there that won't be used," said Michael.
"I think sometimes they miss out on ordinary people getting involved and that's unfortunate," he added.