Wexford bridge washed away on Christmas Day 2021 finally set to be reinstated this summer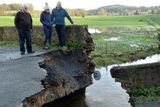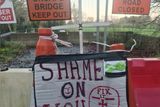 Pádraig Byrne
Wexford People
Nearly a year and a half after it was washed away in near biblical flooding, it appears that a finish line may finally be in sight for the reinstatement of the bridge at Wilton, Bree.
The Co Wexford bridge was one of a number that was completely washed away in the extreme flooding on Christmas Day 2021 and while other bridges have been reinstated and seen temporary works carried out, a 'road closed' sign has been placed at Wilton Bridge ever since, much to the frustration and annoyance of locals.
In recent months, signs have even been erected at the bridge directed at Wexford County Council, stating "Shame on you. Fix it." Some locals have complained that they've had to take 35 minute round trips to cover a distance that previously would've taken five minutes.
The frustration of locals was noted by Director of Services Eamonn Hore at the May meeting of Wexford County Council after the topic was again raised by Cllr Cathal Byrne.
"I know Cllr Byrne has been raising this for a while," he said. "He even raised it with me at the Wexford v Antrim game in Wexford Park!
"I know that people are frustrated and that posts have gone up saying 'shame on Wexford County Council' and that type of thing. But the bottom line is we had to get a Section 50 licence for this. July to September is the timeframe for the works involved. We got the Section 50 back in October.
"If possible, works on the bridge will start in June, if not July."