Wexford boy who was attacked by dog enjoys a spin in an Aston Martin DB11 for his birthday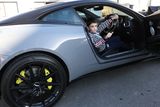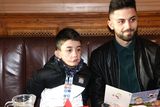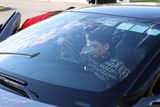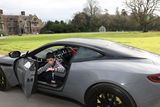 Brendan Keane
Enniscorthy Guardian
A brave schoolboy from Enniscorthy, in Co Wexford, who was viciously attacked by a dog while playing outside his home in November, had the birthday of a lifetime when he was driven to his birthday dinner in an Aston Martin DB11.
Alejandro Mizsan, was attacked by an XL Bully outside his home in November resulting in him receiving life-changing injuries and being hospitalised for seven weeks.
However, his story caught the attention of Nadia Adan, from Ashford Motors, in Co Wicklow, and a particular aspect of his personality caught her attention.
Alejandro is car mad and recently there was a car gathering near his home, organised as a way of welcoming him back home.
Nadia followed the story and she decided she was in a position to do something for him given his love cars and her business dealing in high end vehicles.
"It was terrible what happened to him and when I read about the car enthusiasts giving their support to him I thought there was something I could do," she said.
"I thought I could do something small for him and as it happened I had an Aston Martin DB11 come in so I decided to give him a spin in that," she added.
Nadia said there was great excitement when she pulled up and she was struck by how confident Alejandro was.
"He just came straight over and he was so upbeat it was brilliant," said Nadia.
As it turned out, when Nadia arrived down to Enniscorthy with the supercar it coincided with Alejandro's 10th birthday weekend.
He was driven to Wells House and in keeping with the traditional perception of Aston Martins being 'the James Bond car', Nadia had a special 'MI5' badge made with Alejandro's name on it making him a special agent for the day.
"What most impressed me about him was the fact he wasn't at all shy and in fact was very outgoing and confident," said Nadia.
She said Alejandro's outlook on life is something everyone could learn from, and commented: "He really is a fantastic boy."
Despite him having a very long road ahead of him in terms of his recovery, Alejandro said it was the best day of life to get the chance to rev a legendary supercar and to go for a spin in it.
"He was Face-timing his friends while we were going along and his positivity was just brilliant," said Nadia.
Members of Alejandro's family were also chauffeured to Wells House where everyone celebrated his 10th birthday, including his brother, Raul, who said it was a fantastic day and it was very special to see the smile on his young brother's face.
"It's hard to put into words what this meant for Alejandro," said Raul.
"It was just so good to see the smile back on his face and he said it was the best day of his life," he added.
"It's one of the best experiences he's ever had and I can't thank Nadia enough for her kindness and making a dream come true for my brother."
Raul said his family is overwhelmed by the kindness shown to them by people like Nadia and Caroline O'Brien, who organised the GoFundMe campaign, 'just playing with his friends' to raise money for the ongoing costs involved in Alejandro's road to recovery.
"It's nice to have people like Nadia and Caroline to show such support for my brother," said Raul.
"My family really appreciates what they've done for us and for my brother," he added.
"It's hard to express the way we feel but we are very grateful to everyone for their support. We have no words to describe what it was like seeing him smile again."
​