Unique Enniscorthy Castle exhibition displays enterprise and determination of the ICA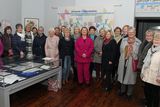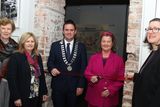 Brendan Keane
Enniscorthy Guardian
ENNISCORTHY Castle unveiled its newest exhibition recently and its arrival was timely in respect of International Women's Day as it focused attention on the ICA.
A large group of the organisation's members gathered in the castle for the launch of the 'Enterprise & Determination' exhibition.
A spokesperson for the exhibition organisers said it was a unique display illustrating the origins and development of the Irish Countrywomen's Association (ICA) and showcases the variety of crafts, skills and achievements of the ICA women through the years.
Speaking at the opening event Breda Cahill, Chair of the Wexford Federation of the ICA said: "I am so privileged that Enniscorthy Castle deemed the ICA and their endeavours worthy of an exhibition."
Ms. Cahill focused attention "on the strength and determination of the women throughout the 1950's and 1960's", when they were instrumental in improving the quality of drinking water and embraced the rural electrification scheme.
Mico Hassett, the castle manager also spoke at the launch and said everyone in the castle loves "highlighting the endeavours of the local community" and she said there was no better way to do that that host an exhibition on the history of the ICA.
"Our new exhibition is called 'Enterprise and Determination', which is a quote from the Chairman of the ESB in the 1950s, reflecting on the work of the ICA in bringing electrification to rural communities," said Ms Hassett.
Members of the local Wexford guilds were also in attendance at the launch and were visibly impressed by the comprehensive display, curated in-house by Ms Hassett and her team.
The Cathaoirleach of Enniscorthy Municipal District, Cllr Aidan Browne, was also among those who attended the event along with Cllrs Barbara-Anne Murphy and Kathleen Codd-Nolan.
The exhibition will remain in place at Enniscorthy Castle until June.