Man who died in Wexford workplace accident 'lived by sharing happiness'
Funeral for devoted father and husband Andrzej Marek Winnicki takes place in Enniscorthy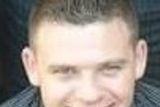 Brendan Keane
Enniscorthy Guardian
THE funeral has taken place in Enniscorthy of the man who died as a result of a work place accident that occurred near Gorey.
The popularity of Andrzej Marek Winnicki, from the Old Forge Road area of Enniscorthy, was highlighted by the very large turnout for his requiem mass in St Aidan's Cathedral.
Tributes were paid to Mr Winnicki in both Polish and English by some of those who were closest to him.
A common theme among the tributes was how much he loved his wife, Marta, and his children, Michelle and Alex, and how his family was what he was most proud of in life.
The mourners heard how Marek, as he was more commonly known, lived in Enniscorthy for a long time and was very popular in the local community, in which he played a very active part.
Described as someone who was never shy about mixing with others he was known for his very friendly, down to earth, personable nature and in particular for his hearty laugh and heart-warming smile.
One of those who paid tribute to him said he was someone who was "very widely known" in sporting circles and also on the local social scene.
"He loved nothing more than having the craic and laughing and joking," one of his friends told the packed cathedral.
"You would hear his laugh long before you would see him," he added, before commenting that his friend's "big smile" was never far away, as he invariably greeted people with a hearty "how's it going?"
"He smiled with his eyes and he was a tonic to be around," said his friend.
The mourners heard how Mr Winnicki was an extremely positive person by nature and was someone it was impossible to fall out with.
They were also informed of how he was delighted with having moved into a new house in the Old Forge Road area and was very much looking forward to raising his family there.
He was described as someone who loved the outdoors and working outside, and was someone who took great pride in his work.
Devoted to his family, Mr Winnicki was a great provider for them and was an extremely proud father and husband.
Passionate about sport, he had a particular love of football and was an underage coach with Enniscorthy Town FC.
Those present in the cathedral heard how he was a massive Manchester United fan and one of his proudest moments was when he was accompanied to a game by his wife and family
The mourners heard how he was extremely popular within Enniscothy United FC and was a firm favourite among the children who were under his charge. He was also very proud to wear the club colours in the St Patrick's Day parade.
Mr Winnicki was also someone who "never got on with mobile phones" and had an unfortunate habit of breaking them but his jovial and upbeat personality always meant it wasn't a bother.
Those who paid tribute to him said it was their "privilege and honour" to have known him and described how their lives and those of everyone who knew him were better for it.
That was the positive impact he made on people throughout his life.
One person summed up what it meant to have him as a friend by commenting: "I am so glad to have known him and it was a privilege to have him as a friend. If you have a bad day think of Marek, because he always put a smile on people's face."
Another of his friends described how he was someone who it was very easy to get along with and within minutes of meeting him people felt completely at ease and comfortable in his presence.
One light-hearted moment in what was a very moving and poignant tribute came when a friend of his described how Mr Winnicki's only failing was with regard to making coffee because he would forget to boil the water.
"That was Marek," said his friend, who also emphasised, as did others who paid tribute, how much he loved his wife and children.
"Don't ever forget how he loved you so much, forever," he said.
Another of his friends described how Mr Winnicki was someone who "hadn't a negative bone in his body".
"He was a fantastic person and so much fun to be around," he said.
"I am delighted to have had the chance to be part of his life and he is one of the most fantastic human beings I have ever met," he added.
"He had a great sense of humour and his infectious laugh never failed to put a smile on anyone's face."
Mr Winnicki was described as the type of person who people felt like they'd known all their life, within half an hour of meeting him for the first time. That was the type of person he was, with one of his friends commenting: "He was a wonderful person who lived by sharing happiness".
Sympathies were extended to Mr Winnicki's wife and family at this months meeting of Enniscorthy Municipal District.
The Cathaoirleach of the local authority, Cllr Aidan Browne, who knew Mr Winnicki through his involvement with soccer said his passing was "a terrible loss" for his family.
A GoFundMe campaign was set up by one of Mr Winnicki's friends following his passing, in support of his family.
It received a lot of support within the community and within days had raised €5,825.
Mr Winnicki is survived by his wife, Marta, children, Michelle and Alex, his father, Edward, sisters, brothers, their families from Poland, and by his mother-in-law, Justyna Magziak, father-in-law, Krzysztof Magdziak, relatives and very wide circle of friends.