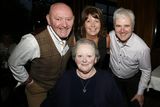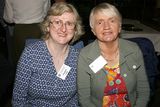 Kilmyshall 10K and 5K Fun Run/Walk
The Kilmyshall Parish 10K and 5K Fun Run/Walk takes place on Sunday, May 21, starting at 12.30 p.m. from Kilmyshall Community Hall. Registration at 11.30 a.m. in the Community Hall. There will be timed 10K and 5K Further details contact Maryann at 087 7922240.
Mother's Union Outing
Bunclody Mother's Union outing will take place on Thursday, May 25, leaving Market Square at 9 a.m. for Kilkenny.
The tour will arrive at the heart of Kilkenny where you can avail of the numerous coffee shops. At 11 a.m. the group will meet at Smithwick's Brewery for a tour of the brewery, an opportunity to sample products and a visit to the gift shop. This will be followed by shopping in Kilkenny and a guided tour of St Canice's Cathedral. The day will end with a two-course dinner tea or coffee in Hoban Hotel, Kilkenny, arriving back in Bunclody at 8 p.m. approx.
The cost of the outing is €60. Names with fare must be paid on or before May 18 to the committee: Evelyn Porter, Shirley Porter or Kathleen Rothwell.
225th Anniversary of the Battle of Bunclody
Bunclody/Kilrush Pike group 225th commemoration of 1798 will take place on Sunday, June 4, at 7 p.m. in Bunclody.
If you want to be involved in the Bunclody/Kilrush Pike Group contact Watty Skeleton at 087 9081440 or Barbara-Anne Murphy at 087 6736966.
Gather to practice on Wednesday, May 17, at 7.30 p.m. at the Church of the Most Holy Trinity. We hope to see you there.
GAA lotto
There was no jackpot winner of last week's Half-Way-House/Bunclody GAA Club lotto draw. The numbers drawn were 2, 11, 21 and 29. Two match-three winners each receive €50. They were Darren Kehoe and Brian Kavanagh. The next draw will take place in Kehoe's on Monday, May 22, when the jackpot will be €9,900.
The Mall Market
The Mall Market is up and running for 2023 on Saturdays from 10 a.m. to 3 p.m. and every Saturday weather permitting.
The market hosts a mixture of handmade crafts, baking, jams, flowers, ladies once off tops, beautiful knitting, crystals jewellery bits and pieces, second hand clothes, flowers, Bunclody honey, handmade cards by Marie in which funds go to cancer care, Pat Crean's potatoes, cushions and handmade toys by Ella, a selection of doggy straps and Niall Toner leather, handmade leather bags. Please come along and have a look, support local, support local crafters, support the community thank you from Mall Market.
Rosary at the Grottos
As part of 'Rosary at the Grottos' and in memory of our faithfully departed who always prayed the Rosary at the Grotto in St Mary's Villas, Bunclody, in the month of May, this tradition will continue at 6 p.m. each evening during May.
Men's Shed
Bunclody Men's Shed opening times are Monday and Friday 2 p.m. to 4 p.m. and Wednesday evening 7 p.m. to 9 p.m.
New members always welcome. For more information, phone Peter at 087 6631588 or Jonathan at 089 4972664.
Bunclody Library
The following events are taking place in Bunclody Library in the coming weeks.
An introduction to Romanticism with Elaine Hoysted – Thursday, May 18, at 7 p.m.
As part of Bunclody Library's Bealtáine celebrations, join Elaine Hoysted, independent art historian, for a talk on paintings created during the Romantic era. Some of the artists that will be discussed include Theodore Géricault, Casper Friedrich, Goya and JMW Turner. Booking essential.
Classic Film Club – Friday, May 26, 11 a.m. to 12.30 p.m.
Join us for our monthly classic film for adults as part of this year's Bealtáine Festival. Staff will select the perfect movie to take you back in time to some of the film greats. Places limited, booking essential.
To book a place for these events please telephone 053 9375466 or register online at wexfordcoco.libcal.com.
Digital Radon Monitors – Do you want to test your home for radon? Digital radon monitors are available to borrow for a period of four weeks from Bunclody Library, all you need is your library card.
For more information, please telephone 053 9375466.
Sensory Friendly Quiet Hour – Every Saturday from 4 p.m. to 5 p.m., Sensory Friendly Quiet Hour is observed in the library.
We encourage you to come along and relax in the calm environment of the library.
Contact the library at 053 9375466 or email bunclodylib@wexfordcoco.ie if interested.
Rosary at the Grottos
As part of 'Rosary at the Grottos' and in memory of our faithfully departed who always prayed the Rosary at the Grotto in St Mary's Villas, Bunclody, in the month of May, this tradition will continue at 6 p.m. each evening during May.
Kilmyshall Split-the-pot
Kilmyshall split-the-pot envelopes are available from HWH Shop, Steemers, Cahill's hardware, D & M Laundrette, Glanbia, Redmond's Bar, Byrnes Hardware Ryland Lower, Kilmyshall parish office and Kilmyshall School.
The pot is split between Kilmyshall School and the parish. Draw takes place every Friday. Your ongoing support is greatly appreciated.
Jumble Sale
Kilmyshall parish council will hold a Jumble Sale on Saturday, June 24. If you have any unwanted clothes, toys, books, bric-à-brac, etc., they may be left in the Kilmyshall parish office or Bunclody parish office. Items must be in good condition. For further details, contact 086 3681772.
Parish Choir
The Bunclody/Kilmyshall Parish Choir meets in the Church of the Most Holy Trinity, Bunclody on Tuesday evenings at 7.30 p.m. New members, both male and female, are always welcome to join.
Plant Sale
Bunclody Horticultural Society's annual plant sale will take place on Saturday, May 20, from 10.30 a.m. to 1 p.m. at Market Square, Bunclody. Your support will be greatly appreciated.
Bunclody Horticultural Society
Over the past few months, the Bunclody Horticultural Society was at great risk of closing for want of a management committee, but there is some good news. A new committee has been formed and is preparing its schedule for the new season. It plans to appeal more to those who are starting their journey in gardening and those who wish to increase their knowledge and ready to adapt to new ideas, around a common purpose and addressing the changing needs and priorities of a vibrant society.
We will be planning a series of lectures in conjunction with Bunclody Library, with a variety of gardening topics, and our annual Plant Sale on Saturday, May 20, with a new venue in the Market Square.
If the society is to continue and grow, it will need new members, so if this is something you are interested in, joining a society with education and a sense of community, around all things horticulture, we'd love to hear from you.
Contact our secretary Anne O'Hara at anneohara111@gmail.com.
Appreciation Evening for Fr Jim Byrne
Tig Leath Sli Bun Cloidi Cummann Luthchleas Gael is having an apparition evening for Fr Jim Byrne in the Horse and Hound Hotel Ballinaboola on Monday, June 5 (Bank Holiday) at 3 p.m.
Fr Jim ministered in our parish from 1965 to 1981 and is the man that started underage/Rackard League football in the club and schools which brought great success in '70s and would pave the way to senior success in the '80s. This is a great opportunity for all former players and parish to honour Fr Jim with his family and friends. There will be a buffet lunch and entertainment with a Bunclody flavour to it.
Tickets at €25 each are available from Redmond's Bar, Bunclody; The Halfway House shop or Shemmie Kelly at 087 2216978.
The club is looking for photos of Fr Jim, sporting and ecclesiastic.
Contact Liam Kelly at 087 2440702 or liamoceallaigh1960@gmail.com or Alan Murphy at 086 3851019 or tamurphy09@gmail.com.
Hot Meals Delivered
Bunclody Meals on Wheels service is looking for volunteers to help deliver a hot dinner to people living in the general Bunclody area.
People with availability between 12.30 and 2 p.m. on a Monday, Wednesday or Friday are urgently needed. Please contact Bridget at 087 2699411 if you can help out either on a regular or occasional basis. All help is very much appreciated to deliver this essential service.
If you or someone you know is in need of a hot dinner delivered to your home by volunteer drivers three times per week, please contact Brigid at 087 2699411 to discuss eligibility.
Bunclody Parish Draw
Winners of the Bunclody Parish 300 to one draw were: March €150: Grainne Callanan; €50 each to Elaine Somers, Marie Monaghan and Peter and Gertrude Rowlands. April: €150: Margaret Deacon, Ryland. €50 each to Pat Grace, Fr L. O'Connor and Alex Blake.
Sincere thanks to all who supported the draw over the past year.
Bunclody RC Parish
The weekly envelope contributions to Bunclody Parish are used to pay for insurance, heating, electricity, altar requisites etc. The Parish Finance Committee appreciate and thank you for your generous support to the upkeep of the church and parish. Weekly envelopes may be left in the church or parish office. For convenience, contributions can now be made directly to the bank. Bank Details: Bunclody Parish – IBAN: IE02 BOFI 9065 23111601 22 BIC: BOFIIE2D
Please include your name when making a payment through your bank, so your contribution may be recorded. Your ongoing support is very much appreciated.
Bunclody News
If you have a news item or photo you would like to have included in the Bunclody News page, email bunclodynotes@gmail.com or call 087 6736966.