HSE launches psychosocial sports intervention programme in County Wexford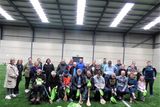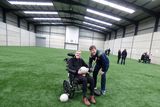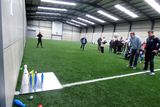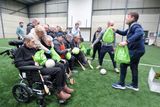 Brendan Keane
Enniscorthy Guardian
THE HSE has launched a psycho-social sports and leisure intervention programme for MHID (Mental Health Intellectual Disability) service users in County Wexford.
The co-produced initiative is being implemented as part of the HSE/South East Community Healthcare's Mental Health Intellectual Disability (MHID) services programme.
Part funded through Mental Health Ireland's, Kevin Plunkett Bursary Award, the first gathering of participants were recently facilitated at the Half Way House Bunclody GAA club's indoor arena.
The participants will continue engaging with the programme on there on the last Friday of each month.
Twenty-eight service users from three HSE residences in the Model County are involved in the programme. They come from Havenview, in Enniscorthy, Croí an Tobar, Oylegate and Westlands, in Wexford town.
They were brought along to enjoy a day's sporting activities, followed by refreshments at the River's Edge restaurant in Bunclody.
"This event for people with specific complex needs, which took place in the Bunclody arena, is part of a community based co-production programme developed by the Wexford Mental Health Services to enhance the quality of life outcomes of its MHID residents, through activation and sports interests," said a spokesperson for the HSE.
The initiative coincides with the establishment last September, of the new MHID service for Wexford/Waterford Mental Health Services featuring Consultant Psychiatrist, Dr. Xavier Fluvia, Candidate Advanced Nurse Practitioner, Mick Mahon, Clinical Nurse Specialist, Tom Wall and Admin, Pauline Cullen-Fenlon.
"Developed as a collaborative initiative between the person, their family and staff, the project aims to promote inclusion and collaboration within the community setting," said the HSE spokesperson.
"Beginning with an hour of functionally related sports activity once monthly, the project plan will extend to fortnightly intervention and, over time, it is hoped to further develop the project across Co Wexford," he added.
Speaking at the launch event at the HWH arena in Bunclody, Mick Mahon said: "Various studies have shown that the use of restrictive practices, incidences of challenging behaviour, and isolation decrease where residents of MHID units have been participating in and benefitting from coproduction programmes like this."
Mr Mahon said part of the programme involves the participant's families and it evaluates the changes evident from their loved one's involvement.
"We have excellent services delivered at residences and in the community by a dedicated mental health and intellectual disability care staff in Co Wexford," said Mr Mahon.
"But we were keen to expand into utilising a psycho-social sports/leisure intervention programme based in the community," he added.
He expressed delight that the scheme received support from Mental Health Ireland and in particular said it was fitting as the organisation's bursary is named in memory of the late Kevin Plunkett.
"Kevin served as diligent, Area Director of Nursing for Waterford/Wexford Mental Health Service, and passed away two years ago," said Mr Mahon.
"Kevin's successor, Kasia Nolan, Area Director of Nursing, has similarly been instrumental in supporting co-produced quality initiatives across the mental health service," he added.
Mr Mahon went on to comment: "In getting under way with our programme in Bunclody, we also remember the late Mickey Connors, who passed away recently. A cherished resident of Havenview, in Enniscorthy, Mickey would have been the first person to have his coat ready to go an event like this."
"We look forward to Mickey's family join us at the May gathering in Bunclody, where we will formally name our project the 'Mickey Connors Sports and Social Club'," said Mr Mahon.
He also praised and acknowledged the support received from the HWH Bunclody GAA Club. He said the club facilitating the initiative was very much appreciated an that it underlined the connection to community life outside the participants' residential unit. It's also a boost in what we are doing to be joined both in the arena and for refreshments afterwards at the River's Edge by families of the service users."
It's hoped the psychosocial sports and leisure intervention programme will be expanded into the wider community across County Wexford in the near future to enable more participants to get involved.
Mr Mahon said doing will help provide "further opportunities to improve quality of life outcomes to this complex specific client group".