County Wexford student honoured by Tánaiste Micheál Martin at prestigious EU event in Cork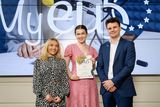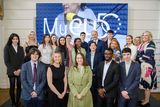 Brendan Keane
Enniscorthy Guardian
A Wexford student was honoured by the Tánaiste, Micheál Martin TD, at an exhibition day for the MyEU50 Third Level competition finalists which took place recently in University College Cork.
Lettie Hessett, from Enniscorthy, along with her co-contributor, Gregor McCullagh-Travers, was a finalist of the competition for their entry titled 'Ireland in the EU: a fifty year journey in Human Rights and the Rule of Law'.
Over 5,000 pupils and students participated in the nationwide competition which was organised to mark 50 years of Ireland's EU membership.
Speaking at the event the Tánaiste said the MyEU50 initiative gave students an opportunity to think about what being an EU citizen means.
"The creativity, experience, and opinions expressed by the students showed their appreciation of Ireland's 50-year-old membership of the EU," he said.
"An important objective of the competition has been to recognise young people's voices and to interact with them about topics related to the European Union that are most important to them," he added.
Min Martin said the knowledge, self-assurance, and capacity of today's young people to influence change may surpass those of any preceding generation.
"Young people can make contributions to the dialogues taking place right now that will shape their future," he said.
"Let us continue to work and push for progress and make the next 50 years as successful as the last," he added.
The CEO of European Movement Ireland, Noelle O'Connell said the level of entries into the competition were of an extremely high standard.
"We were blown away by the range of entries we received," she said.
"From podcasts on the rule of law, to posters on equality and justice, and speeches on the impact the EU has had on the youth of Ireland, we were highly impressed not only by the creativity of the entries but the level of research that went into each and every one," she said.
She went on to comment: "The entries demonstrated the students' unique, emotive and personal relationship to the EU and their values."