County Wexford film premiere was an entertaining and educational night
Shadow of Freedom was shot entirely in Enniscorthy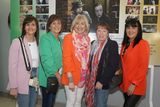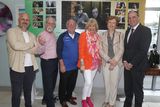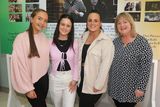 Brendan Keane
Wexford People
THE Presentation Centre in Enniscorthy was the venue recently for the world premiere of a film that was shot locally and which features an all-star local cast.
'The Shadow of Freedom', with a screenplay by Dick Donaghue from Wexford Film Workshop, was shot entirely on location in Enniscorthy.
The film's story is based on a section from local author, Maria Nolan's book of the same name and focuses on events that occurred in and around the town in the period between 1919 and 1921.
The film stars some of the foremost names on the contemporary local and Irish acting scene including Fiona McDermott, Summer Venn-Keane, Jer Ennis, Billy Phayers, Joe Mernagh, Kate Breen, Fergal Kelly, John Kirwan, Dave Parson and Ray Murphy.
Members of the Enniscorthy Historical Re-enactment Society were also involved in the filming.
The venue was packed for the premiere and prior to the screening Ms Nolan addressed the audience and acknowledged the contribution of those involved. A very enjoyable and entertaining evening, the premiere also featured a video address from Wexford historian in residence Barry Lacey who outlined the events that led up to the period in which the film was set.
Going back as far as the 1798 Rebellion his commentary stirred the emotions as he gave insight into a conflict that divided the country and ultimately led to the formation of the Republic of Ireland.
The night also featured a short film made by Pat McClean and Jim Scanlon which compounded the emotions stirred by Mr Lacey's address. A compelling observation on Irelands conflict and complex relationship with Britain it was a fantastic way to provide a backdrop to the story contained in the 'The Shadow of Freedom'.
Ms Nolan said it was a pleasure working with the production team involved in the film and she also paid tribute to local artist, Larry Dunne, who is also the visual arts coordinator for the Presentation Centre for the work he does in designing all of her book covers.
Prior to the main screening a short film was shown outlining the historic events that occurred in and around Enniscorthy stretching back to the 1798 Rebellion.
As an intro to that film Ms Nolan said the occasion couldn't pass without "a nod to Vinegar Hill" and the fact that this year marks the 225th anniversary of the infamous battle that occurred there.
She said the two films were shot "on no budget" and that they highlighted the enormous amount of talent that exists in Enniscorthy and across County Wexford.
She said everyone involved should be justifiably proud of what they achieved.
Not content to rest on her laurels however, Ms Nolan also revealed that her new book, 'From The Slaney to the Yukon', is on the way and will be published by Red Books in Wexford.