County Wexford boy is only person to make his first communion in the school this year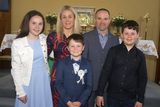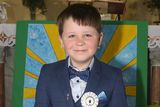 Brendan Keane
Enniscorthy Guardian
A little bit of history was made in Castledockrell National School recently when 2nd class pupil, Darragh Doyle, was the only person receiving his First Holy Communion in the school this year.
However, there were scenes of great celebration in the school to mark the event with the parents' association organising a party in the hall and the school choir also performed.
A spokesperson for the school said it was a lovely day and it was the first "proper celebration" since before Covid because last year the school wasn't able to have the choir perform or hold a school party.
Darragh was joined in the special occasion by his proud parents, Liz Kelly and Colum Doyle, and also by his siblings, Jack, who is in 4th class in the school, and Chloe who is in 1st Year in FCJ Bunclody.
Following the Holy Communion, Darragh went for a family meal and a party at home.
The school spokesperson said it was a historic occasion to have just one pupil make their Communion and it's something that won't be happening again any time soon as there are a number of pupils due to take the sacrament in the school over the next couple of years from the junior classes.