Bunclody business lends support to local groups in appreciation of their community work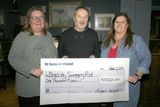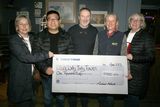 Brendan Keane
Enniscorthy Guardian
THE Rivers Edge bar and restaurant in Bunclody presented two cheques of €1,000 each, recently, to two very worthy local organisations.
Michael Kehoe, who owns the business, presented the cheques to representatives of Bunclody Tidy Towns and also the local swimming pool committee.
Mr Kehoe said Rivers Edge was delighted to provide the sponsorship to the two organisations for the valuable contribution they both make to the local community.
"The swimming pool is a great amenity for young people in the town," he said.
"It's a great facility for them to have," he added.
With regard to the Tidy Towns group he said they are "very hard working and do a lot of work to ensure the town always looks well for everyone".
"They are doing a serious amount of work at the moment between planting flowers and painting as well as cleaning away weeds and things and they could do with the money to help them," said Mr Kehoe.
"My business is in the town and I am delighted to help do the work they do and the money will be put to very good use," he added.
Mr Kehoe also acknowledged the support other businesses in the town give the organisations and said he was delighted to be able to help two very important local initiatives.