Sligo Swimming Club athletes do well at Nationals
Impressive displays from club's young competitors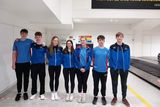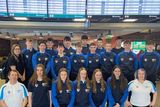 It is great to see the further development of the County Sligo Swimming Club team who were represented at National and International Competitions in recent months.
CSSC were represented at McCullagh International by 14 year old club members Matthew O'Grady and Jake Noone in the junior age group category and also by Dominic French, Killian Langton, Kyle Kelly, Dara Ronan & Ronan Kilcoyne in the senior age category both in individual and relay events.
This competition took place in the Aurora in Bangor, Northern Ireland. It is a great achievement to have qualified for this level of competition.
The month of March saw Killian Langton & Dominic French represent Connacht at a high level competition in Swansea as members of the Connacht Regional Development Squad.
They both put in great performances in a highly competitive field.
Following this 8 Sligo Swimmers took the water at Ponds Forge International Sports Centre in Sheffield for a weekend of fast racing at the end of March.
Accompanied by Head Coach Martin J McGann, team managers PJ Langton & Patricia Kilcullen the Sligo squad consisted of Jane Bradley, Ciara Connaughton Jones, Jamie Lannon, Izzy Lannon, Dominic French, Killian Langton, Kyle Kelly & David Woods achieved many personal best times and gained valuable experience of an international competition.
The prestigious Irish Open Championships took place in the National Aquatic Centre, Dublin from 1st April – 5th April where Danielle Farrell, Dominic French, Kyle Kelly, Ronan Kilcoyne, Killian Langton, Jamie Lannon, Anthony Maher & David Woods competed against Ireland's top swimmers. The team displayed impressive performances overall, resulting in personal best times, podium places and qualifying times for the upcoming Summer National Championships.
This concluded a very positive few months of competing for the Sligo swimmers, racing against some of the fastest in Ireland and beyond and the club would like to sincerely thank all the coaches and parents and all involved for their work supporting the swimmers over the course of the season.
Well done Sligo.