Sligo's Seán Carrabine a leader when it matters as he gets the vital winner against Leitrim
Tony McEntee's men are promoted to Div 3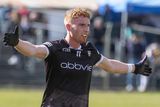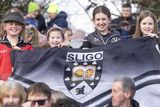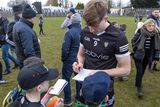 Gerry McLaughlin
Sligo Champion
In all sports, it is the leaders who ultimately make the difference when a certain substance hits the fan.
These are the men/women who get the score, make the catch, the block or the tackle-not when their team is cruising but when they are struggling.
And Seán Carrabine from Castleconnor certainly walked tall when his county needed him.
If we start at the end first-for he will always be remembered for fisting that winning point to ensure that Sligo will be playing Division Three football next season.
On the field he also pretty much stands out too with that distinctive red hair and the black socks pulled up, a la the great Adrian Marren.
But Carrabine always delivers from play and frees and did so in the heat of battle in Páirc Seán MacDiarmada.
He, Paddy O'Connor and Pat Spillane were among Sligo's standout stars, but he is content to heap the plaudits on his team mates as he is surrounded by autograph hunters in the aftermath of an exciting victory on the foreign soil of Leitrim.
"It was disappointing the way we let that big lead slip and Leitrim certainly had their homework done on us but the main is that we got there.
"We were cruising but we should not have let them back into it, but we will take it.
"We had a poor start, but we knew coming here that the crowd was going to be huge, so it was a case of managing that.
"We knew that had to come and win, so much of the pressure was going to be on them to get a result.
"So, they had to come out and go at us.
"We weathered that storm in the first ten minutes and we were in complete control but unfortunately, they got a couple of goals.
"When Pat Spillane got that great goal for us, we should have clinched it and we should have had at least two more goals but we were just unlucky.
"I don't know how Nevin O'Donnell saved that first timed effort from Niall Murphy or with the one on one with me and he made two super saves.
"But everyone else stepped up, and we had a great range of scorers today and the subs did well too".
One of Sligo's great strengths is the almost telepathic understanding between Carrabine and Patrick O'Connor and Carrabine explains why.
"We have been playing together for the past ten years from U-14 upwards so we know each other's game inside out which is a good help.
"And we swap all the time".
But Carrabine agreed that anything less than promotion would not have been acceptable.
"We were very unlucky last year not to go up and now we have done it but we need to build on that".
Carrabine was on the last Sligo team to be relegated from Division Three in 2019 and is looking forward to a return as a an older and stronger player.
He added: "There was a huge crowd there today and it made for a great atmosphere, and it was important to keep them quiet, but there was some good support here from Sligo as well.
"It is great to see that, and we hope to build on that throughout the year.
"And the future is bright and the U-20s and minors are coming through which is also very encouraging for the future".