'We're no different to anyone else affected by it, we didn't cause it, we can't cure it, so we need help.' Sligo's growing pyrite disaster
Cathal Mullaney talks to a devastated house owner whose home of 20 years faces demolition but he's not alone, there's at least 200 more dwellings affected in Sligo but the county isn't designated for grant aid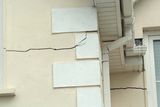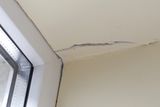 Cathal Mullaney
Sligo Champion
A homeowner has spoke about how his family home might have to be demolished as it could literally crumble before his eyes.
It's an issue that has has grabbed headlines in neighbouring counties Donegal and Mayo but it has now reared its head in Sligo - and early indications suggest the problem could be much more extensive than first feared.
'A couple of hundred' houses in the county could be affected by the issue of pyrite, according to Acting Chief Executive of Sligo County Council Tom Kilfeather.
Pyrite has a devastating impact on the structure of a house or building, to the point that many end up being demolished and built again with new materials.
A geological mineral that is sometimes present in blocks and materials used in the construction process, pyrite was also previously known as 'Fools Gold'.
Golden specks appear within stones, and pyrite enters the building process when it is present in quarries that provide blocks and other building materials.
Once the pyrite is present, it causes a chemical reaction when it meets with water causing the blocks to expand.
Evidence of pyrite in homes and buildings usually includes evidence of cracks on interior or exterior walls, and blocks beginning to crumble. Issues can also emerge in the foundation.
It is a problem that in many instances, depending on the extent and length of time the cracks have been present, that can lead to a house needing to be demolished and rebuilt again.
If the problem is detected earlier, or the pyrite is not quite as bad, other less extensive remedial works can help resolve the issue.
While the focus on pyrite has been mostly in this part of the country in recent years - with a dedicated scheme offering up to 90pc cover of costs in place for affected homes in Mayo and Donegal, where it is thought close to 5,000 homes have evidence of pyrite - it has been prominent in other locations at various other stages.
It first emerged as an issue in areas of Leinster, including Dublin, while it's understood that Limerick and Clare are also seeking to be included on a remediation scheme due to instances in that part of the country in recent years.
Minister for Housing, Darragh O'Brien, launched the Defective Concrete Blocks Grant Scheme for Mayo and Donegal last year.
Under the terms of the scheme, houseowners impacted by pyrite can apply for 90pc funding to cover works required, including demolishment.
Awards range from the maximum of €275,000 for demolishment and rebuild, to less than €50,000 to finance the rebuild of an outer leaf wall.
One of the homeowners in county Sligo affected by pyrite has described to The Sligo Champion the harrowing difficulties encountered once they discovered their home suffered from pyrite issues.
"Absolutely devastated, you put all your life into it [building the house]. We are living in it for 20 years at this stage and we had so much spent on it, so much put into it.
"You're heading into nearly your retirement years and you're thinking where are we going to get money to build a new home?," the homeowner said. They have been told that the home will need to be rebuilt within the next ten years as the structure will eventually succumb to the cracks.
"We got a contractor out because we were going to change the windows and doors in February 2019," he recalls when the problem first became apparent.
"The contractor noticed the cracks, and we had noticed some ourselves, but we didn't think they were a big issue, I just thought it was the rendering of the plastering on the outside. He said you know, I might get someone to have a look at them.
"We got two samples taken from the two gables, because they were all cracks, and they were sent off to a lab up the country somewhere and they came back that they had tested positive for pyrite."
The homeowner says the cost of the tests was in the region of €2,000, but the process has now changed in the last two years. Now, a similar test and report would cost closer to €6,000 to determine the existence of pyrite in the first place.
It's understood that up to 200 houses in various parts of Sligo could be affected, the majority of which are located in rural parts of the county in the west, south and north.
The issue has been brought up at council level on a number of occasions, most recently at a meeting of the Ballymote/Tubbercurry Municipal District where councillors voiced their concern at the extent of the problem, and whether Sligo would be able to gain access to the scheme currently in place for neighbouring counties.
Acting Chief Executive Tom Kilfeather told councillors that the council had written to the Minister for Housing Darragh O'Brien in an effort to push Sligo's case for inclusion.
This initiative was backed by councillors, with Councillor Joe Queenan among those to praise the CEO in raising the issue with the Minister.
Councillor Queenan said people were initially 'reluctant' to highlight the problem in their own properties, but more people have been encouraged lately as more houseowners come forward.
Welcoming the council's initiative, Cllr Michael Clarke said it was not the people's fault that their houses were affected by pyrite and that it was 'unfair' that Sligo was omitted from the scheme.
Cllr Clarke also emphasised the need for councillors to make contact with the four TDs for the constituency in order to highlight the issue at national level. He made the point that other counties, such as Clare and Kerry, may also be seeking to be added to the scheme.
Supporting Sligo's possible inclusion, Cllr Paul Taylor said he hoped 'it comes to fruition' and that people would have the option to apply.
Mr Kilfeather told councillors it was clear there was a problem with pyrite in the county and that the number of houses with the same issue was a lot more than had been anticipated originally.
Indeed, Orlagh Cawley, who works for Ballina-based OMD Design says they received a big response to a social media response seeking those who might have evidence of pyrite to come forward.
OMD, a company specialising in consultancy work across a range of areas including architecture, engineering, surveying and project management, assisted the council in trying to identify how widespread the problem was in Sligo.
"All we were doing was trying to establish an approximate number for the local authority," Ms Cawley explains.
"We put up a Facebook post and it got a massive reaction, a lot of people contacted us and then we did a drive through, we drove all through the county to have a physical look at houses of people who got in touch. There are still more of them coming in."
It's believed that when the initial problems in Donegal, and later Mayo, were flagged up to eight years ago, some cases in Sligo were also evident.
However, there were not enough cases to justify Sligo's inclusion on any remediation scheme at that point, but it is now clear that many more cases have emerged - with more likely to follow.
For homeowners, it is an incredibly difficult and worrying time as they grapple with the structure of their house falling apart, with little or no support on offer to help remedy the situation.
The homeowner who spoke to The Sligo Champion says they were told their house would need to be demolished and rebuilt due to the effects of pyrite.
Given the extent of the damage, they say they are at a loss to explain why those affected in Mayo and Donegal are able to access funding and schemes, while those in other counties with the same problem are not.
"At the beginning, I was nearly ashamed that people would know your house is like this but when it starts to fall down around you everybody's going to know anyway," the county Sligo resident explains.
"There's nothing to be ashamed of and we did nothing wrong - we bought a product, it's defective, and you're within your statutory rights as they say to return that product or be compensated for it if it's not up to the standard that you thought it was when you bought it.
"I can't see what the problem is that we can't all be included.
"I can't understand, it's like giving the people in Mayo the old age pension and we won't bother giving it to them in Sligo or Clare or whatever other county is affected. It's ridiculous and I don't understand how it's not a national scheme."
Factfile
The pyrite problem was first identified in Ireland in 2007. It can cause cracking or lifting of concrete floors; cracks in internal and external walls (cracks can be present above and below wall openings); bulging of walls; doors not closing (catching in frames and so on); and movement and displacement of cabinetry installations.